Jamie Dornan And Nick Frost Discuss Peter Andre's Torso!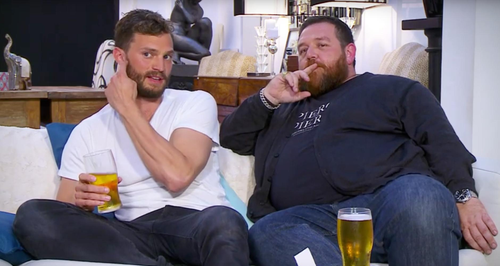 It turns out that Mr Grey is just as normal as us - he enjoys a night in front of the telly watching Peter Andre.
We know him as Mr Grey with his devilish good-looks, saucy antics and stacks of cash, but it turns out that Jamie Dornan likes a night in front of the telly as much as the next person. And what's more, he's joined on the sofa by none other than Nick Frost (Hot Fuzz)!
As the lads kick back and relax with beer in front of Strictly Come Dancing, they discuss contestant Peter Andre's hottest moments - with Jamie deciding that he preferred Peter's torso back in the Mysterious Girl days!
Watch the video below to hear Jamie's gorgeous Northern Irish tones talk Peter Andre. Mmm...
Read more: 'Twilight' VS 'Fifty Shades Of Grey' As Edward And Bella Get A Gender Swap!
Jamie and Nick are starring in Celebrity Gogglebox for a charity episode in aid of Stand Up To Cancer. Comedian Miranda Heart will also be on the sofa, joined by her on-screen mum Patricia Hodge and her real mum, Diana Hart-Dyke, whilst singing legend Boy George is joined by best friend Ginger Spice (Geri Horner) and Marilyn.