Jimmy Kimmel Pokes Fun At Dame Maggie Smith During Emmy's And Gets A Hilariously Cheeky Response Back!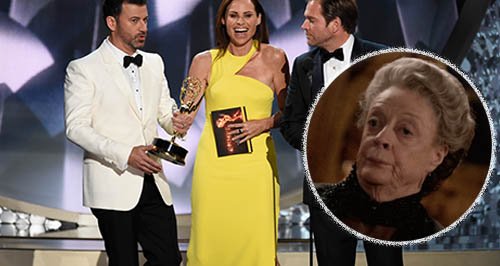 The actress was absent at the Emmy Awards and Jimmy Kimmel couldn't help himself but make fun of the situation!
Dame Maggie Smith is a national treasure! She has already been nominated for 9 Emmy's and won 4.
In recent years, she has slowly started to attend fewer and fewer award shows outside of the UK despite frequently being nominated for and winning Oscars and Emmy's.
This year was no different and the 81-year-old actress as she won the Emmy award for best supporting actress in a drama series for her role as strict Violet, the Dowager Countess of Grantham in Downton Abbey.
Following standard award show protocol, if a winner is absent somebody collects the award on their behalf. But just as the presenters Minnie Driver and Michael Weatherly went to accept the award, Jimmy Kimmel jumped in!
He swooped in grabbing the award and joked "No, no, no, no, no. We're not mailing this award to her. Maggie, if you want this it'll be in the lost and found".
In good humour, Maggie responded hilariously with this quote which Masterpiece PBS, the channel which broadcasts Downton Abbey in the US, tweeted out...
Dame #MaggieSmith graciously accepts her #Emmy award -- @jimmykimmel, please advise on the location of the lost and found! #DowntonPBS pic.twitter.com/veQ6shRmxA

— Masterpiece PBS (@masterpiecepbs) September 19, 2016
Two can play that game Jimmy!