Jodie Whittaker Reveals What It REALLY Took To Keep Doctor Who News A Secret...
8 August 2017, 12:27 | Updated: 8 August 2017, 14:19
The new star of Doctor Who Jodie Whittaker told Christine Lampard just how difficult it was keeping perhaps the biggest secret of her career!
Speaking of being cast as the first female lead in Doctor Who, she revealed to guest host Christine Lampard: "It's really exciting. It's got a huge audience and a loyal, wonderful fan base. Maybe this will open it up to some new young faces that haven't necessarily been introduced to it yet. [It] is really emotional and overwhelming – completely overwhelming."
Endearingly, Jodie was hugely excited to have landed the role. She said: "When I was told there was no like, 'Yeah thanks, thanks', it was like 'Agghhh [pretends to cry] are you kidding? OK, thanks!' Really, really smooth. You can't get a job like this and not be knocked sideways."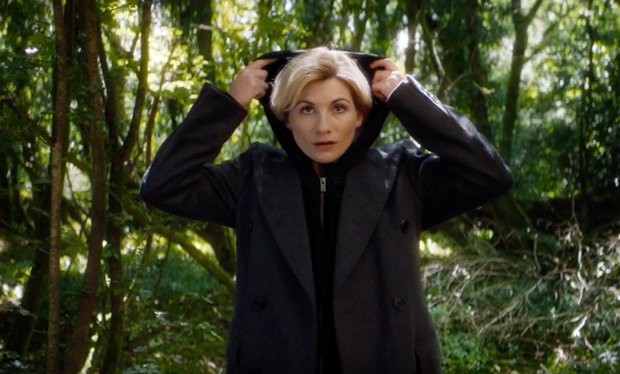 We're so excited for the Doctor's next regeneration. [Picture: BBC]
EVERYBODY wanted to know who was going to be the new Who. So how did Jodie keep it a secret? Speaking about the casting announcement, she said: "For me I got to live a pretty anonymous life until then. So it was within my benefit to have that reveal happen. I was just lying left right and centre. Talking to my agent and [showrunner] Chris Chibnall, obviously we were speaking a lot, I'd get so paranoid if my phone was on the table and his name would ping up and I'd be like well, people won't associate it with that as people know we're friends from Broadchurch." Good thinking, Doctor.
Jodie jokingly claims that the secrecy went to her head. "You just become a massive narcissist like, everything's about me… everyone is looking at me all the time. I think I was incredibly melodramatic the whole time. I talked like this [in a whisper] in my flat for months."
Meet the Thirteenth Doctor #DoctorWho #Doctor13 pic.twitter.com/txHGz9tJEe

— Doctor Who Official (@bbcdoctorwho) July 16, 2017
Whittaker has also spoken to BBC News about being catapulted into the spotlight. "You'd be naïve to be stepping into this role and think that it won't suddenly make you a public face in comparison to what you've done before."
The down-to-earth star squirmed as she added: "I knew there would be, maybe, an interest in me going to the shops [Laughs] that will hopefully die down because it's not very exciting!"