John Lewis Christmas adverts through the years: From Man on The Moon to Moz the Monster
14 November 2018, 18:03 | Updated: 26 November 2019, 11:51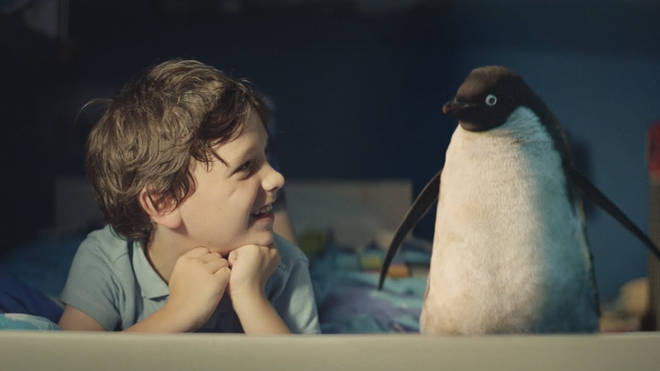 From Moz The Monster in 2017 to Buster the dog in 2016, the heartwarming campaigns are an integral part of British Christmas.
The John Lewis Christmas advert is the most hotly anticipated marketing campaign of the year, for many signalling the start of the Yuletide season.
With Elton John being slated to star in the John Lewis 2018 campaign, with Your Song, it's got us thinking about some of the most magical John Lewis adverts over the years.
From Moz The Monster in 2017 to Buster the dog in 2016, the heartwarming campaigns have become more than just an advert to viewers, with the short-clips pulling at the heart strings and even going on to top the music.
2007
The first ever John Lewis Christmas advert was released back in 2007, costing the company £6 million.
It was centred around a group of people who came together to make a shadow objects, including a person wearing a scarf and their dog looking at a star in the sky.
The ad ended with the statement "Whoever you're looking for this Christmas" written on the screen.
2009
This was a pivotal year for John Lewis campaigns, as it had an emotional storyline that resonated with families at Christmas.
It centred around young children opening up their gifts on Christmas Day, and had the strap line: "Remember how Christmas used to feel? Give someone that feeling."
The soundtrack featured Sweet Child O'Mine sung by Taken By Trees.
2010
Ellie Goulding was one of the first big stars the high-street department store had called on to cover Elton John's classic Your Song.
The film focused on families opening up their gifts and enjoying Christmas festivities.
2011
Striking a chord with the viewer emotions, this advert told the story of a little boy who couldn't wait for Christmas to arrive.
While the viewers were led to believe that the boy couldn't wait to receive his gifts, he woke up excitedly and walked straight past his presents to give his parents their gift instead.
2013
One of the most memorable adverts to date, this animation told the story of a bear and hare's friendship. The bear is used to hibernating through the winter months, however with the help of the hare, he was able to set an alarm and wake up on Christmas Day.
2015
The lonely man on the moon took a turn from John Lewis' cheery ads, and actually had viewers reaching for the tissues instead.
The short film told the story of an old man on the moon, who is sent a gift by a little girl who spies him on her telescope. John Lewis had partnered with Age UK to remind viewers about the elderly who may be spending Christmas alone.