THIS Great British Bake Off Spin-Off Show Is Back On BBC With A New Host!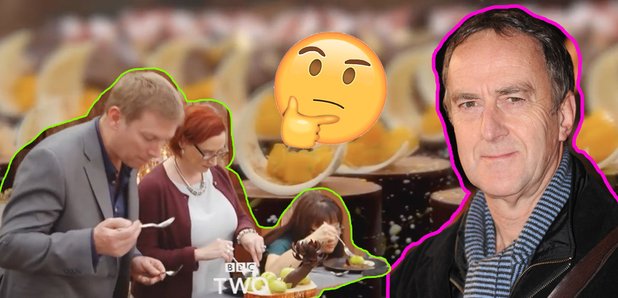 Thought you'd seen the last of GBBO-related shows on the BBC? Well, think again!
We all know 2016 was a bit of a rubbish year, but the cherry on top (ahem) was the mess surrounding the Great British Bake Off.
The BBC lost the epic show to Channel 4 after Love Productions, the company behind the tent, wanted the BBC to cough up extra cash.
But all is not lost!
Great British Bake Off spin-off show, Creme de la Creme, is BACK and getting ready for a show-stopping return to BBC Two later this year.
The show sees 10 teams of professional pastry chefs compete in tasks to see who can make the most delectable and spectacular sweet treats.
The first series was hosted by professional chef Tom Kerridge, but NEWS JUST IN, he's been replaced by Angus Deayton.
Is that name ringing a bell? Well, you may remember Angus from quiz show 'Have I Got News For You'. He was sacked in 2002 after allegations about his private life hit the headlines...
But now he's BACK and ready to judge some cakes with Benoit Blin, chef patissier at Raymond Blanc's Le Manoir aux Quat'Saisons in Oxfordshire, and Cherish Finden, executive pastry chef at The Langham, London.
What do you think? Will you be watching the new series of Creme de la Creme later this year?