'Bake Off' Fans Left Shocked After Candice Appears To Brand Mary Berry THIS Rude Word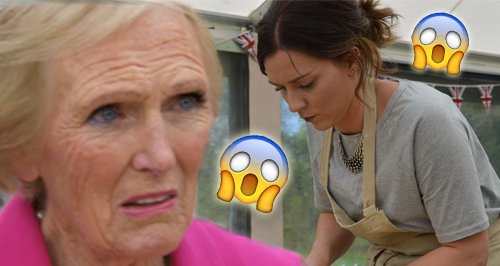 Viewers of last night's show were left with a sour taste in their mouths following the citrus meringue challenge.
Last night's challenge on the 'Great British Bake Off' ended on a sour note, after fans slammed contestant Candice Brown for coming across a little less than sweet.
In tense judging scenes, Candice appeared to call judge Mary Berry a "tart" after the 81-year-old baker critiqued her lime citrus meringue.
Those watching the show couldn't believe their ears and swiftly took to Twitter to share their outrage.
Did Candice just call Mary Berry a tart! How dare she! @BritishBakeOff #GBBO

— Nathan Walters (@Nath_Walters) 28 September 2016
As if she just called Mary Berry a tart #GBBO

— Abbi Hubbard (@AbbiHubbard91) 28 September 2016
Calling Mary Berry a tart was a bit excessive there Candice @BritishBakeOff #GBBO #BotanicalWeek

— Imogen (@imzomars11) 28 September 2016
Mary Berry: 'Just the right amount of lime'. Contestant: 'Tart'. Just rude! #GBBO #BakeOff #fb

— Cllr Stephen Ellis (@CllrSteveEllis) 28 September 2016
Candice so just called Mary Berry a tart Send her to the Tower. #GBBO

— Karen (@CoxandClan) 28 September 2016
We've watched the footage back, and we have to say that we believe this is all one big mix up, thanks to some very clever editing.
In the clip, Mary Berry praises the meringue's citrus filling as she states "the actual curd is very good."
However, Candice probably said the word "tart" in anticipation of her curd tasting very sour!
Can everyone please calm down now?
When your curd has a bit too much tang… #BotanicalWeek #GBBO pic.twitter.com/P36tOBu19D

— British Bake Off (@BritishBakeOff) 28 September 2016.