Could THIS Be The Most Cringe-Worthy Dating Show EVER?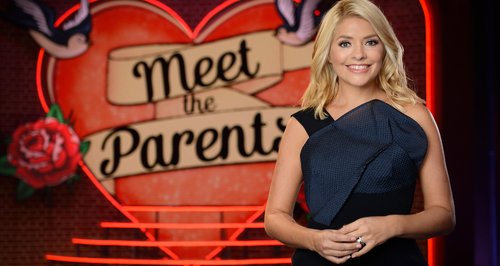 ITV's new show 'Meet the Parents' sees Holly Willoughby introduce singletons via embarrassing interviews with their mums and dads! #awkward
The late great Cilla Black would be seriously impressed with this totally cringe new dating show on ITV!
Move aside 'Blind Date', because 'Meet the Parents' is here to torture those with a low tolerance for embarrassing moments and awkward encounters...
This brand new show hosted by Holly Willoughby is all about matching singletons, but there's a twist. Instead of introducing unlucky in love contestants to each other, they have to go through their respective parents.
Well, at least it gets the horrendous 'meet the in-laws' moment out of the way early!

Here's how it works... single chaps and ladies get to ask a series of questions to a mystery date, but they have to ask those big life questions to the hidden singleton's parents.
Holly has already revealed that plenty of things have descended into madness, and there's not even a holiday (a la 'Take Me Out') to reward contestants for their constant blushing!
If they match, couples have to go on a date STRAIGHT AWAY. Literally there and then...talk about pressure!
Plus, the whole encounter is filmed and analysed, so there's no escaping. It sounds like a bit of a nightmare #firstdatehorror

Amazingly, some of the contestants have found genuine love (well, for a while at least). One duo lasted six months according to Holly.
We'll just have to tune in on Saturday to find out who's going to go the distance...
The very first episode of Meet The Parents will air on ITV on Saturday 11th October at 7pm.
Will you be watching 'Meet The Parents' with Holly Willoughby on Saturday?