Legendary US Sitcom Roseanne Is Being Revived Next Year!
17 May 2017, 11:33 | Updated: 14 July 2017, 11:11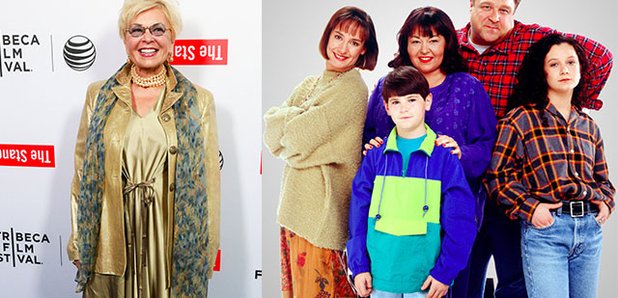 The hit 90s sitcom Roseanne has been revealed to be revived in 2018 with a whole new series!
US sitcom 'Roseanne' is set to get the revival treatment with an EIGHT episode series in 2018!
ABC network bosses have announced the return of the popular sitcom, which initially ran for nine seasons from 1988 until 1997, and have also revealed that most of the original cast have committed to the project.
Roseanne Barr (Roseanne), John Goodman (Dan), Sara Gilbert (Darlene), Laurie Metcalf (Jackie), Michael Fishman (D.J.) and Lecy Goranson (Becky) are all set to reprise their original roles, although Johnny Galecki, who played David, cannot because of his commitments to the CBS sitcom 'The Big Bang Theory'.
John Goodman and @therealroseanne are reunited at the #ABCUpfront! #Roseanne pic.twitter.com/gT0ATUQvuE

— Roseanne on ABC (@RoseanneOnABC) May 16, 2017
The award-winning show saw Roseanne Barr assume the lead role as her working-class family, the Conners, went about their day-to-day lives in Illinois.
The show was such a hit at the time, partly for it's casting which intentionally selected actors who looked like everyday Americans rather than airbrushed Hollywood stars.
In a statement, ABC Entertainment president Channing Dungey said: "The Conners' joys and struggles are as relevant and hilarious today asthey were then, and there's really no one better to comment on our modern America than Roseanne."
But it wasn't just a hit over in the States as it had a huge fanbase over on our side of the pond thanks to it being shown on Channel 4, so we are praying we get to see the reboot too!
There's going to be a Roseanne reboot and nothing else brings me so much joy.

— Alex (@BrattyTimelord) May 17, 2017
So excited for the #Roseanne revival! Finally!!! I miss this show so bad & felt like the ending cheated us!

— Pamela Gammon (@pamelagammonpgp) May 6, 2017
The show's revival continues a recent trend in the TV industry, which has seen shows like 'Will & Grace', 'The X Files' and 'Prison Break' all make returns.
A premiere date for the revival of 'Roseanne' is still to be announced, but ABC - which had been competing with Netflix to restart the show - has confirmed it will return to TV screens some time in mid-2018.
But until more news heads our way, check out some of Roseanne's best bits here...
The laugh is back. #Roseanne returns to ABC in 2018. pic.twitter.com/u0hvVcttjU

— Roseanne on ABC (@RoseanneOnABC) May 16, 2017