Eamonn Holmes 'cracks on' with Love Island's Laura... but Ruth isn't happy
6 August 2018, 14:11 | Updated: 6 August 2018, 15:57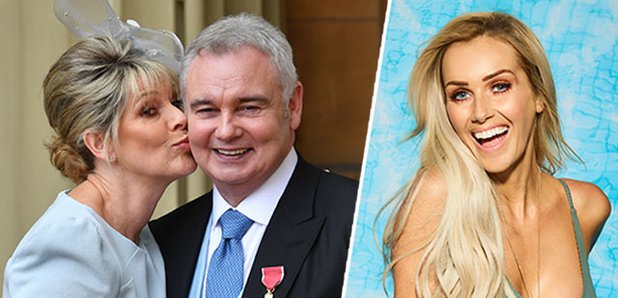 This Morning's Eamonn Holmes and Ruth Langsford made a cheeky cameo on the Love Island Reunion show last night.
Eamonn Holmes 'cracked on' with Love Island's Laura in the Love Island Reunion show last night, before wife Ruth Langsford put a 'stop' to his antics.
Laura Anderson admitted during the 2018 series that she had a soft spot for the This Morning host, and, in a funny cameo, Eamonn decided to up his flirting game with the Scottish beauty.
In the video message, Eamonn said: "Hello Laura, Eamonn here, but you knew that already.
"Thanks so much indeed for your lovely words of admiration, you made an old man very happy.
"And talking about happy, I'm happily married to the lovely Ruth, but she's not a lovely all the time but that's a whole other question.
"But the big question is, could I be happier with someone else?"
However, he was unable to complete his next sentence before his wife swooped in and demanded to know what he was up to.
"Are you cracking on with that Laura one?" she accused in jest.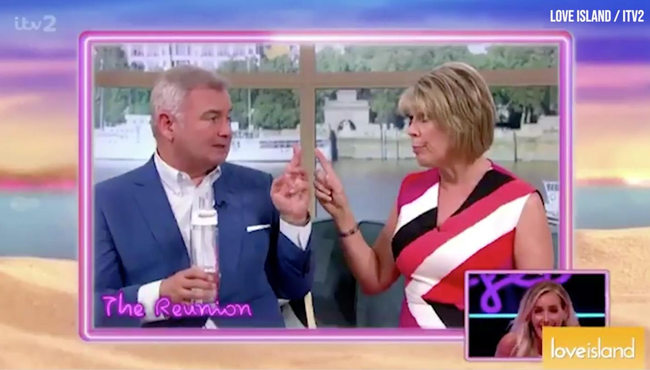 Credit: ITV2
Laura admitted that Eamonn had slid into her DM's at one point, but only to wish her the best.
She revealed: "In a nice way - he just said, 'Thanks for the love and I support you.'"
Ruth and Eamonn have been happily married since 2010, and share one child together - Jack Alexander, 19.