What happened on Love Island last night? Series 5, episode 18 recap
24 June 2019, 10:18 | Updated: 24 June 2019, 10:21
Last night's Love Island saw quite possibly one of the most dramatic moments of all time after Maura overheard Tom making a nasty comment about her
We, along with presumably the rest of the nation, are still reeling in shock from last night's episode of Love Island.
Within the first five minutes, viewers were sitting through the intense showdown between Danny Williams, Yewande Biala and Arabella Chi.
Yewande learnt that Danny had told Arabella that he's open to getting to know her on the date, and she later confronted him about the love triangle.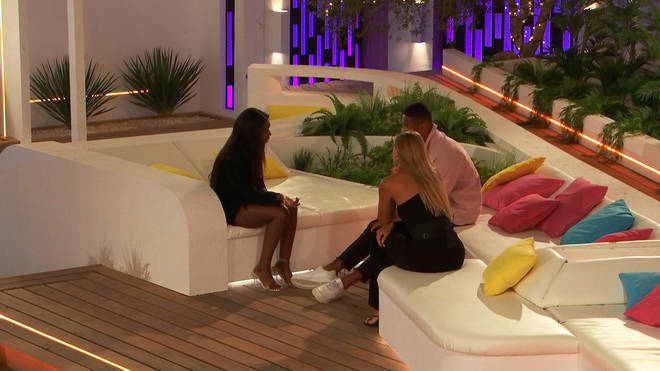 She said: "Arabella came and had a chat with me and she said that you both have agreed you have an undeniable connection and you both want to continue getting to know each other?"
When Danny replied that he did, she saidL "You never said to me that you had a connection [with Arabella]."
Danny then replied: "I just said it was a really good date and that she would get on really well with everyone in the villa."
Yewande then said: "But you told me that you wanted to progress things with me. You failed to mention that you want to get to know her even though you already told me that you're not interested in getting to know anyone else. Am I right or am I wrong?"
Yewande continued: "Did you or did you not say that no matter who walked in your head wouldn't be turned?"
After a long chat, Yewande asked him: "What do you want from me? I don't really get it. Do you know what you want?"
Danny then said: "I want me and you to continue talking and I don't want it to be awkward. In regards to Arabella, I just want to get to know her. That's it."
Yewande later chatted to Anna Vakili and Amber Gill, telling them: "At first, I thought 'I can do this' and then now I don't really want to be here and I want to go home."
And later on in the episode, Maura Higgins received a text saying she could pick one guy to take to the hideaway, and she chose Tom.
However, just as they were getting ready to go, she overheard him telling the boys that he'll find out if she's 'all mouth'.
Maura then told him to go f*** himself, leading to what someone on Twitter called 'the best five minutes of TV' they'd ever seen.
One viewer wrote: "That was the best 5 minutes of tv I've ever seen - omg 🙀😂👏🏻 amazing ! Tom absolutely done himself over 😂 #LoveIsland."
Another posted: "OH MY GOD Nooooooo I need to see what happens NOW!"A third shared: "I NEED TOMORROWS EPISODE RIGHT NOW #LoveIsland."
Who is in this year's Love Island?
The contestants of this year's Love Island are:
Tom, 29, model from Leeds.
Arabella, 28, model from London.
Jordan, 24, model from Manchester.
Maura, 28, model and ring girl from Country Longford, Ireland.
Danny, 21, model from Hull.
Molly-Mae, 20, social media influencer from Hertforshire.
Yewande, 23, scientist from Dublin.
Lucie, 21, surfer from Cornwall.
Amber, 21, beauty therapist from Newcastle.
Amy, 26, cabin crew manager from Sussex.
Anna, 28, Pharmacist from London.
Anton, 24, gym owner from Airedrie, Scotland.
Tommy, 20, boxer from Manchester.
Michael, 27, firefighter from Liverpool.
Curtis, 23, ballroom and Latin Dancer from Shropshire.
When can I watch Love Island?
Love Island is on ITV2 Monday to Friday at 9PM.
On Saturday, you can see the Unseen Bits show, which reveals more laid back moments from that week in the villa of the contestants having fun.
The show returns again on Sunday at 9PM, which is then following by Love Island: Aftersun at 10PM.