Marcel And Gabby Thank Fans For Their Support Following Racial Abuse Online
4 August 2017, 10:14 | Updated: 4 August 2017, 10:15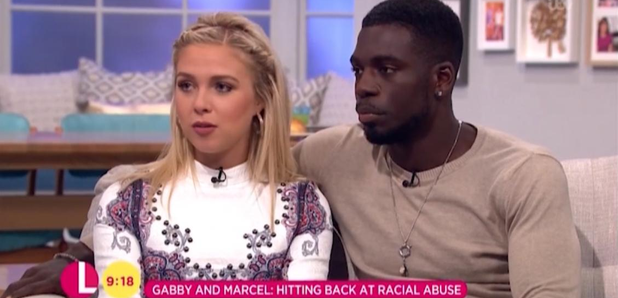 Love Island stars Marcel Somerville and Gabby Allen's time since leaving the villa has been less easy than the other islanders.
Since the islanders left the Love Island villa last week we've seen the famous couples loved up in the spotlight across TV programmes and in our daily papers.
On the outside it may look as though they are all having a perfect time since being reunited with their loved ones and being able to spend time as a couple away from the watching eyes of the British public.
But Love Islanders Marcel and Gabby have had less than a smooth ride since leaving the villa due to to some shocking racial abuse aimed at them by online trolls.
The pair spoke to Christine Bleakley on Lorraine about the fact that the comments towards them got so bad that Gabby felt that she had to address the subject so people are aware that racism is still very much an issue.
She said: "We don't hear about it as much anymore and it's hidden but it does still go on and everyone should know about it. There are some idiotic people in the world and they should be disgraced".
The blonde beauty has since admitted she is grateful to have a platform to be able to "raise awareness" about the harmful remarks.
In a series of posts on Instagram Stories, she wrote: "Thanks to everyone for being supportive with regards to me sharing horrid and racist comments earlier this week."
"I'm so fortunate to have been given such a great platform off the back of Love Island which is allowing me to raise awareness of all this and make it known IT IS NOT OK to speak or about people like that".