Matt Le Blanc and Dakota Fanning Reunite 12 Years After Their 'Friends' Moment!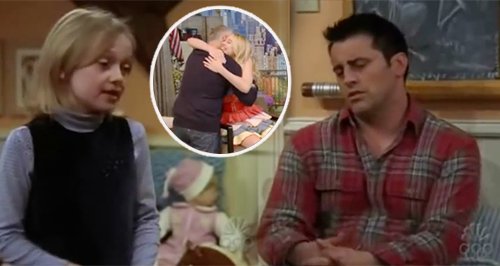 Dakota Fanning gets surprised by Friends co-star Matt Le Blanc 12 YEARS after they starred in the sit-com together!
We all remember Matt Le Blanc as lovable actor Joey Tribbiani in friends, but do you remember a certain Hollywood starlet that was cast in the show back when she was ten years old?
The pair recently reunited on US chat show Live! With Kelly and Matt Le Blanc's reaction is TOO adorable!
He was clearly taken aback by the reunion and said ''Long time, no see! You're so big. You were like this when I saw you last!' pointing to waist height.


Dakota Fanning was cast as a girl who didn't want her parents to sell their house to Monica and Chandler. Joey, who didn't want his pals to buy the house struck up an unlikely friendship with Dakota's character.
The scene is from an episode in Season 10 called "The One Where Chandler Gets Caught" and is near to the *sobs* end of friends.
But back then young Dakota's acting career was only getting started! And now you may know her as the star of War of the Worlds alongside Tom Cruise and also from the Twilight films.
So sweet!