You'll Never Look At A Frying Pan In The Same After Watching This Cheeky Audition!
21 July 2017, 12:28
The middle-aged men shock Simon Cowell and the judges with their saucy routine on America's Got Talent.
Next time you're in the kitchen, you might want to avoid the frying pan, as you'll probably get some horrendous flashbacks after watching this bizarre America's Got Talent audition.
The show, headed up by X Factor judge Simon Cowell, is partial to a few whacky auditions but Men With Pans has to be one of the weirdest yet.
Viewers at home would have been forgiven for thinking the two men dressed in chefs hats were about to dazzle the judges with their cooking skills but boy were they wrong.
The pans weren't for throwing together a flagrant dish. Instead, they were used to make up a skimpy wardrobe costume that barely covered their modesty as they performed an acrobatic routine.
At one point, one of the men ditches his pan while upside down in a lift, as his partner switches his cookware back and forth to cover their backsides as they spin in place.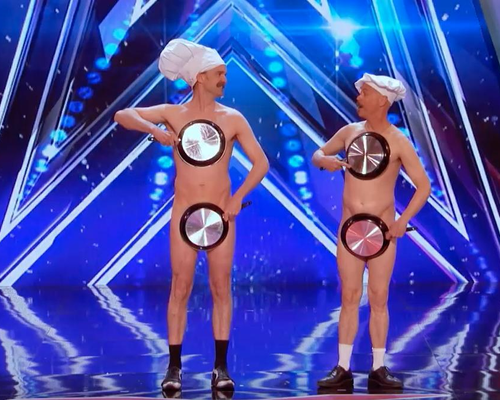 Both the crowd and the judges alike were left in fits of laughter at the ridiculous performance, whilst covering their eyes over fear their modesty would be exposed!
How awkward?