Michelle Keegan Couldn't Look At Her Dad After Her Saucy Scenes On Our Girl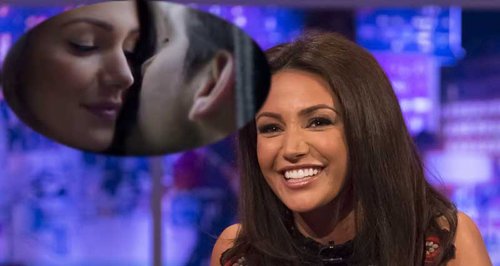 The TV star reveals her mortification over having to sit through some of her most romantic scenes to date...with her parents present!
The former 'Coronation Street' star has revealed that she was left feeling totally embarrassed when she had to attend a screening of Our Girl with her family in tow.
The 29-year-old said that she just couldn't bring herself to look at her father when her naughtiest scenes came on the big screen:
"He came to the screening with my mum and I was sat on the other side with the cast, and I remember my brother was sat between my mum and my dad," she told the audience on Jonathan Ross's chat show, "and I remember the scene coming on and I couldn't look in that direction once, I couldn't do it."
"And we haven't even spoken about it since, I just can't bring it up to him. He totally understands it's acting" she confessed, a little shame-faced.
Luckily, it seems her hubby and Heart presenter Mark Wright is totally cool with those cringy, intimate scenes and knows it's all just part of his lovely wife's job.
The gorgeous brunette also couldn't resist chatting about those steamy scenes with Philip Schofield and Holly Willoughby on This Morning: