Morgan Freeman Slams Fan For Chatting During Awkward Acceptance Speech
22 January 2018, 12:23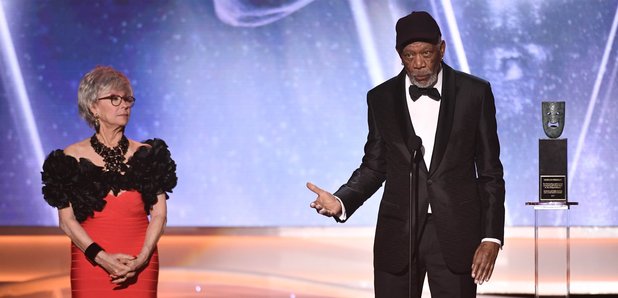 You don't want to get on the wrong side of Morgan Freeman!
Award speeches can be a big deal for some celebs. There's ones that are full of tears, ones that include drunken antics and others that require EVERYONE to listen.
Morgan Freeman chose the latter, and at last night's SAG Awards, let's just say he wasn't too pleased when someone chose to speak during his speech.
Picking up the Life Achievement Award at the ceremony he started off fine, then all of a sudden found himself distracted by a person that was chatting away in the front row.
He then called out: "Hey ... I'm talking to you. Yeah, hey,"
He then added: "Okay, well you just stand out to me. That's all."
Awkward.
The actor who was kitted out in a tuxedo and baseball cap then continued on with the rest of his speech as if nothing happened, saying:
"These moments in one's life usually will call for an entire litany of thank yous.
"I can't do that because I don't know all of your names, so I won't try."
Just imagine getting told off by Morgan Freeman!
Awkward times, for that guy.
Watch more: