Anne Hathaway Perfectly Sums Up Our Reaction To The 'Princess Diaries 3' News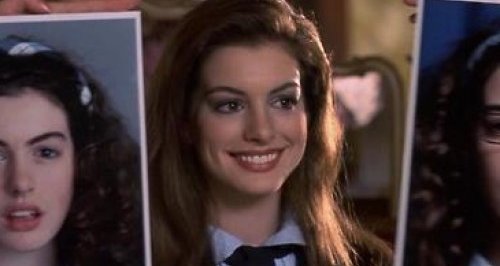 According to director Garry Marshall, Anne Hathaway will be back as Mia Thermopolis in 'Princess Diaries 3'. Here's what we think of the news...
Hold the phone and stop what you're doing because movie director Garry Marshall has announced Anne Hathaway is totally up for 'Princess Diaries 3'!
Could this be the best trilogy of all time? **Except for 'Star Wars', 'Indiana Jones', 'Back to the Future', 'Pirates of the Caribbean' and 'Lord of the Rings' obviously**
The first movie came out in 2001 and the nation (and, let's face it, the world) fell in love with awkward Mia Thermopolis who finds out she's the heir to the throne of Genovia.
Who doesn't have fond memories of Mia being poked and prodded to become the perfect princess by her grandmother and Queen Clarisse Renaldi, played by Julie Andrews.
The second movie 'Princess Diaries 2: Royal Engagement' came out in 2004 and it was possibly the most wonderfully cheesy thing we've ever seen. However, nothing can ever beat this…
So how long do we have to wait for the joy to arrive? Well, Anne is currently very, very pregnant with her first child, but Garry Marshall reckons she will be grabbing a tiara as soon as she's given birth!
He told People magazine: "I was with Anne Hathaway a couple weeks ago, it looks like we want to do Princess Diaries 3 in Manhattan."
Garry is also responsible for 'Pretty Woman', 'The Runaway Bride' and 'Valentine's Day', so you just know it is going to be good!
Frankly we need more of this in our lives...
But will Chris Pine be back? The heartthrob got one of his first big acting breaks in the second 'Princess Diaries' movie as Nicholas Devereaux – Mia's cocky but ultimately brilliant love interest.
It turns out that Garry has known Chris since he was a kid through 'Hollywood circles', so we're guessing he may be able to call in a favour!
What do you think? Are you excited to see 'Princess Diaries 3'?