18 Of The Best Dance Scenes In Film EVER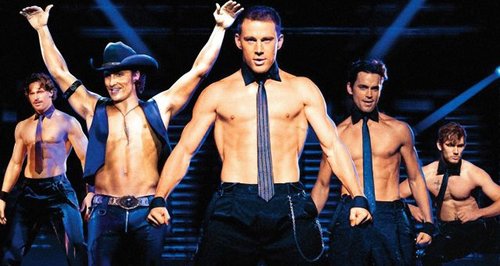 Make sure you're wearing your best leotard, sweatbands and trainers because this list is going to have you dancing on the ceiling.
Here's a roundup of some of the best dance scenes in film throughout time!
1. Magic Mike (2012)
Every dance scene in this film a-okay with us.
Read more: Channing Tatum Dances 'Magic Mike' Routine Dressed A Pensioner!
2. Risky Business (1983)
Don't forget Tom Cruise's pants dance! To be honest though, who hasn't done this when their parents leave them the house whilst they're on holiday? And if you haven't, your kids are doing it when you're away.
Read more: Watch: Tom Cruise Cleans Up In An Intense Lip Sync Battle
3. Chicago (2002)
*Pop, six, squish, uh-uh, cicero, lipschitz* The Cell-Block Tango was sexy, dangerous and full of attitude.
4. Billy Elliot (2000)
This kid had talent. The scene where Billy - played by Jamie Bell - takes out his frustration by tap-dancing on the roofs and backyards of the neighbours still gives us goosebumps.
5. Love Actually (2003)
Because who doesn't dance like Prime Minister Hugh Grant?
6. Slumdog Millionaire (2009)
When Jamal (Dev Patel) and Latika (Freido Pinto) brought Bollywood to the train station at the end of a heart-wrenching, on-the-edge-of-your-set rollercoaster of a film based on a true story.
7. Step Up (2006)
Yes, Channing Tatum makes the list again. Any complaints? Anyone? No? Good.
8. Mean Girls (2004)
It might not be the best dance routine ever, but it's certainly one of the most iconic. We all outwardly judged Gretchen, Regina, Cady and Karen whilst we secretly learnt the moves in the safety of our living rooms...
9. Singin' In The Rain (1952)
What a classic. And when the weather is grey and miserable, who doesn't break into this song and dance routine?
10. Hairspray (2007)
*Twist, twist, twist, twist, mashed potato, mumbo* Not only did this film make us want to bring back all those 60s moves, we got to see John Travolta at his finest - as Edna Turnblad!
11. Grease (1978)
Normally we'd say that the best and sexiest dance routine in Grease would be either Greased Lightning or You're The One That I Want, but we found Danny Zuko doing the same moves as Edna Turnblad and it's made our day!
Read more: QUIZ: Who Would Be YOUR 'Grease' Date To The Rydell High School Dance?
12. Dirty Dancing (1987)
There are a lot sexier dancing scenes between Baby (Jennifer Grey) and Johnny (Patrick Swayze) but this is is easily the most famous move from the film. C'mon, who's made their sibling practice this move with you in the swimming pool?
13. Black Swan (2011)
Natalie Portman's dancing skills in this film were en pointe. Get it? Seriously though, who knew she could dance so well? Ms. Portman, who played Nina, trained for eight hours a day, six days a week to achieve that ballet body. Her dedication to the job is admirable.
14. High School Musical (2006)
What a phenomenon this TV only film turned out to be for Disney. Over here at Heart we're still *Soaring. Flying. There's not a star in heaven that we can't reach!*
15. Footloose (1984)
You thought it was cute when Ren (Kevin Bacon) got his dance shoes on and then you saw Ren teaching Willard (Chris Penn) how to dance. Now that was cute!
16. The Breakfast Club (1985)
When life gets you down, you dance it out right? With the Breakfast Club.
Read more: 'The Breakfast Club': Where Are They Now
17. The Sound Of Music (1965)
This is the reason that it takes you and your family so long to leave someone's house. Since the kids bothered to learn the dance moves, you regret making them watch this on a Sunday night...
18. 500 Days Of Summer (2009)
When you've got something to celebrate (like finally hooking up with the perfect girl), you simply MUST dance! isn't that right Tom (Joseph Gordon-Levitt)?