Disney Have Announced Their Up Coming Films Including A New Toy Story!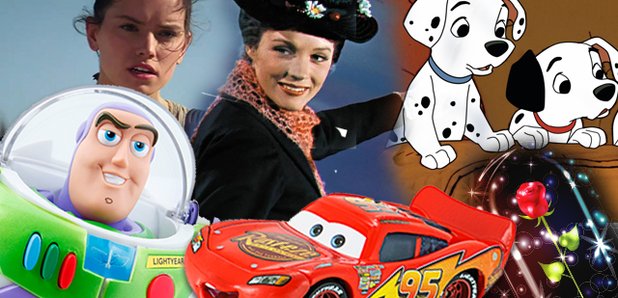 Toy Story 4 is coming our way!
Disney have announced their plans for the next three years of film released, and we are SOOO excited to see this lot.
Some of them we've been hearing about for a little while now, such as Beauty and the Beast and Cruella, but did you know that Toy Story FOUR is on it's way?
And thats not all!
2017
This year has some incredible Disney releases lined up involving a Disney Princess, sequels and of course another Star Wars.
Beauty and the Beast - 17th March
Guardian of the Galaxy Volume 2 - 5th May
There's not much information about the sequel to this space adventure flick but we hope Chris Pratt will be back!
Cars (3) - 16th June
Lightening McQueen and his pals will be back this summer to make the Cars series a trilogy.
Pirates of the Carribbean: Dead Men Tell No Tales - 7th July
Jack Sparrow is back at it again! This time he faces a ghost ship led by an old nemesis. Johnny Depp and Orlando Bloom return to the screen in the latest instalment.
Coco - Expected release date is 22nd November
Pixar's new film for this year (alongside Cars) is inspired the Mexican Day of the Dead celebrations and its rumoured hero is a 12 year old boy.
Cruella - 22nd December
The long anticipated back story of the 101 Dalmatians villain is finally hitting cinemas this year! Cruel will be played by La La Land actress, Emma Stone.
2018
Gigantic - 9th March
This new film will deliver Disney's take on the classic story of Jack and the Beanstalk. It will follow Jack as he stumbles upon the giants in the sky and befriends a 60ft 11-year-old girl called Imma.
Star Wars spin off (yet to be named) - 25th May
In the same vein as Rogue One, this spin off story from the Star Wars franchise takes us deeper into the back story of the galaxy. Rogue One taught us about the story of the infamous Death Star and this new spin off will tell us more about Han Solo and how he became a smuggler.
Toy Story 4 - 15th June
ANOTHER ONE!
Yes, just as you've got over the image of the loveable toys sliding into that incinerator they're back. Although this time the story will reportedly revolve around Woody and Bo Peep's romance.
Mulan - 2nd November
After the success of the live action Cinderella, Disney just HAD to pick another princess and we are so pleased with the choice - Chinese princess warrior, Mulan.
Mary Poppins Returns - 25th December
This return to the tale of magical nanny, Mary Poppins, will rejoin Jane and Michael Banks now they are grown ups.
2019
The year has only just begun so 2019 sounds like light years in the distance but it promises another Star Wars (of course) and also a sequel to superhero flick, The Incredibles!
Also, alongside all of these amazing releases there are of course loads of Marvel films on the way over the next three years (Disney have owned Marvel since 2009). So keep your eyes peeled for more new superhero Black Panther, Captain Marvel and more Avengers in 2018 and 2019.
So whether you're a fan of princesses, Pixar or superheroes - there's definitely a film from Disney that will take your fancy at some point in the next three years.
We can't wait!