You've Seen The Full Fantastic Beasts Trailer But Now The Characters Have Been FULLY Revealed In The Official Posters!
Fantastic Beasts and Where to Find Them - Final Trailer [HD]
02:42
Fantastic Beasts And Where To Find Them has teased magic fans AGAIN with posters that reveal the major characters and a possible connection to Harry Potter and the Deathly Hallows.
The official movie posters for Fantastic Beasts and Where to find them have been released and they reveal WAY more than we might have expected!
We get to see the main characters in action - including Eddie Redmayne as Newt Scamander and Colin Farrell as prospective baddie, Percival Graves.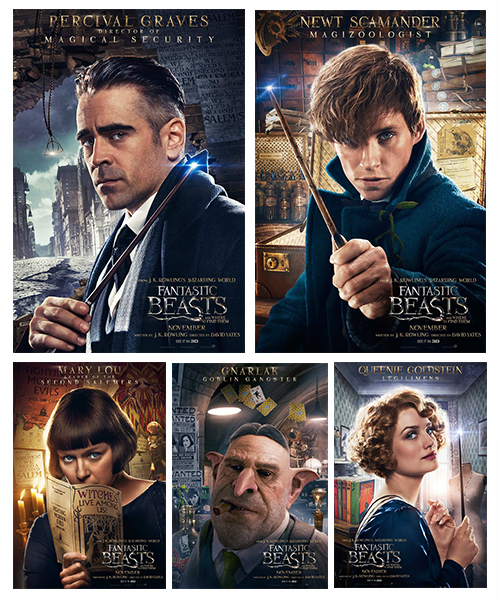 Photo: Warner Bros
However, eagle eyed Potter fans may have noticed something else about the Colin Farrel poster...the Deathly Hallows!
Yet ANOTHER connection to the Harry Potter stories!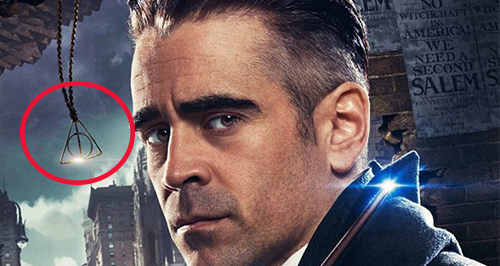 So far this is the most solid connection we've seen with the Harry Potter books and we are SO EXCITED!
And its not long now until we can see the film for ourselves.....hurry up November!
Watch The Latest FULL Trailer For Fantastic Beasts And Where To Find Them
An even LONGER sneak peek has been released for the upcoming Harry Potter spin-off, 'Fantastic Beasts and Where To Find Them' and we are now more excited than ever!
The newest teaser has tempted us with more information about the latest magic film and we get a further taster of whats to come from the plot.
And even though the film will star mostly American wizards, our British hero Newt Scamander - played by Eddie Redmayne - hasn't forgotten his roots and we see him explaining to a fellow wizard that on this side of the pond we use the word 'muggle' to describe non magic folk.
We can't wait to see the film when it is released in November!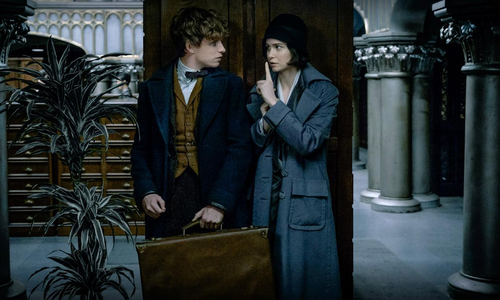 A Sequel Has Already Been Confirmed!
'Harry Potter' fans have had all their Christmases come at once, as 'Fantastic Beasts and Where To Find Them' has been given a date for it's sequel.
The first spin-off from J.K Rowling's Harry Potter movies doesn't even hit cinemas until November this year but Warner Bros. have confirmed they are already planning ahead for the second instalment of the wizarding trilogy.
The famed author has already written the script for the follow-up film and it's been confirmed to hit cinemas on November 16th 2018.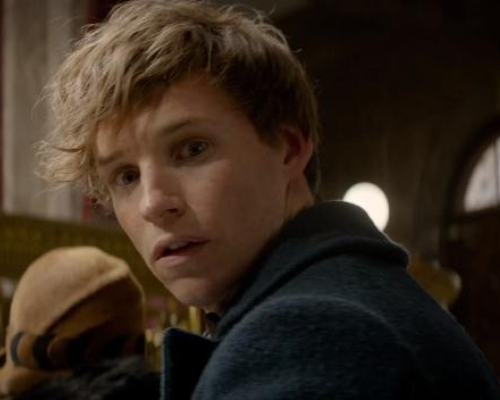 The good news comes after a brand new featurette for 'Fantastic Beasts and Where To Find Them' dropped last month.
Eager fans finally caught a glimpse of J.K Rowling's new magical world when the first teaser dropped at Comic Con in California.
The film, which stars Eddie Redmayne as Newt Scamander, follows the magi-zooligist's global excursion to find and document an extraordinary array of magical creatures.
Arriving in New York for a brief stopover, he finds himself in trouble when he comes across a No-Maj (American for Muggle) named Jacob, a misplaced magical case and the escape of some of Newt's fantastic beasts, which of course spells disaster for both the wizarding and No-Maj worlds.
Take a peek at the video above and let us know what you think. Will this movie be worthy of the 'Harry Potter' saga?
Update 11 April 2016:
Around seventy years before Harry Potter was born, there was another hero whose story we're only just about to learn.
The brand new footage of the much talked-about upcoming movie focuses on Eddie Redmayne's goofy but loveable character as he begins a new life in New York.
Expect more magic and mayhem, but this time on the streets of the famous American city and with a 1920s flair to them.
Update 17 February 2016:
The Wizarding World of Harry Potter is bigger than we all knew – as JK Rowling is expanding her fantasy stories to the United States of America.
Harry Potter fans rejoice! J K Rowling is to tackle the 'Magical History of America' in a New Harry Potter series to debut on the Pottermore website tomorrow and we can't wait!.
The brand new four-part series of stories set across the Atlantic will share the secrets of the American equivalent of Hogwarts, Ilvermorny, and the US version of the Ministry of Magic, The Magical Congress of the United States of America.
An official teaser trailer says: "History has many secrets. The official story is never the whole story. Look beyond the surface and you will find another world running parallel to our own a secret world where magic is real."
Fans will be happy to know that J.K Rowling has announced two more follow up movies for 'Fantastic Beasts and Where To Find Them'.
The author took to Twitter to announce the news after putting to rest recent rumours that 'Harry Potter and The Cursed Child' would be made into a film following it's run in the West End.
You heard wrong, I'm afraid. #CursedChild is a play. #FantasticBeasts will be 3 movies, though! https://t.co/7tvw4rolcR

— J.K. Rowling (@jk_rowling) February 29, 2016
The news comes after the FIRST official, the first trailer for 'Fantastic Beasts and Where To Find Them' dropped online. Give it a watch above...
The 'Fantastic Beasts And Where To Find Them' team has upped sticks from Hertfordshire and moved to the centre of Liverpool to film some key scenes. According to the crew some buildings in Liverpool are perfect for recreating 1920s New York…who knew?!
Filming will officially kick off at the end of October, marking the first and only time the cast and crew will leave Leavesden studios to film 'on location'.
But residents and shoppers should prepare themselves now, because 530 cast and crew are expected to descend on Liverpool in the next few weeks!
This isn't the first time Liverpool has been used as a filming location. 'Peaky Blinders', 'Fast and Furious 6', 'Jack Ryan: Shadow Recruit' and 'Sherlock Holmes' were also shot in the area.
Another week, another amazing film announcement! Harry Potter spin-off to be shot in Lpool, well done @FilmLiverpool http://t.co/cQdlav9qvt

— Liverpool Council (@lpoolcouncil) October 12, 2015
It's begun! That's right, 'Fantastic Beasts And Where To Find Them' has officially started filming, to the excitement of 'Harry Potter' fans everywhere.
Director David Yates has started production on the 'Harry Potter' spin-off at the Warner Bros. Studios in Leavesden, Hertfordshire.
The film is based on a book Harry Potter read while at Hogwarts called, you've guessed it, 'Fantastic Beasts And Where To Find Them'. Eddie Redmayne plays the book's author, Newt Scamander who travels the world studying magical creatures.
Along the way Scamander meets many interesting witches and wizards, including Graves (played by Colin Farrell) and Tina (played by Katherine Waterston).
The rest of the cast also includes Alison Sudol, Dan Fogler, Samantha Morton, Jenn Murray and Faith Wood-Blagrove.
'Fantastic Beasts And Where To Find Them' will be the first film in a trilogy inspired by J. K. Rowling's books, that the studio are hoping will match the fortune the 'Harry Potter' films made.

The author herself is taking on scripting duties, while David Yates is set to helm all three films.

'Fantastic Beasts And Where To Find Them' will hit UK cinemas 18th November 2016, with the second film slated for 2018 and the third expected in 2020.

Exciting. https://t.co/r95qEXKDss

— J.K. Rowling (@jk_rowling) August 17, 2015
It looks like J.K Rowling's latest film effort will be the must-see movie of 2016, especially seeing as Colin Farrell is the latest star to join the cast. According to Hollywood Reporter Farrell will play a wizard named Graves who crosses paths with Newt Scamander in New York.
The news comes after Warner Bros. announced it's leading lady Katherine Waterston would star opposite Eddie Redmayne.
Meanwhile the studio is still on the search for a girl aged eight to 12 to star as Modesty, a character they say "has the ability to see deep into people and understand them."
The description continued: "Modesty is a haunted young girl with an inner strength and stillness. She has an ability to see deep into people and understand them."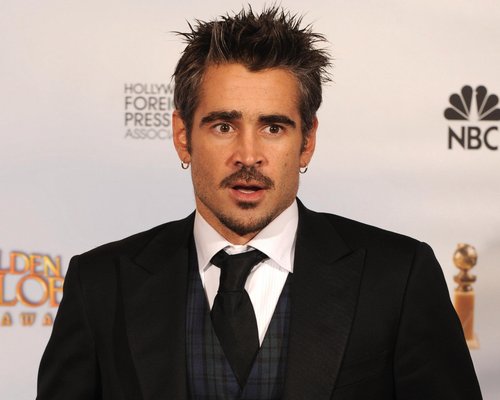 Katherine Waterston has joined the cast of 'Harry Potter' spin-off, 'Fantastic Beasts And Where To Find Them'.
The 35-year-old actress will start opposite Eddie Redmayne as witch, Tina (short for Porpentina) who comes into contact with magizoologist, Newt Scamander on his travels in New York.
She has previously acted oppossite Joaquin Phoenix in 'Inherent Vice' and is set to appear in Danny Boyle's Steve Jobs biopic later this year.
I couldn't be happier with our Tina: Katherine Waterston! #FantasticBeasts https://t.co/VSTUdGYUrF

— J.K. Rowling (@jk_rowling) June 15, 2015
The film, which is inspired by J. K. Rowling's spin-off book of the same name, will be directed by 'Harry Potter' director, David Yates with a screenplay by the author herself.
If Katherine Waterston is nervous about appearing in such a high profile movie, she needn't worry. Creator of the 'Harry Potter' world, J. K. Rowling has given the actress her seal of approval.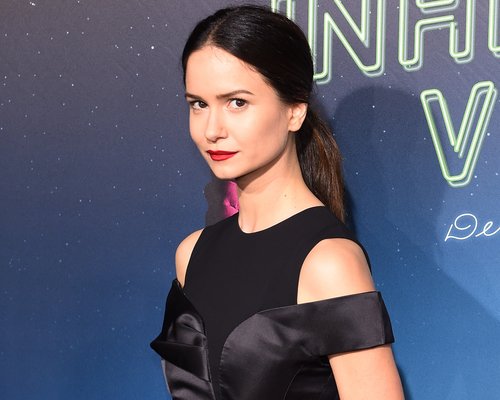 It's long been rumoured to exist, but it seems that fans may be about to get their first glimpse of the American school of witchcraft and wizardry.
@jk_rowling @MrBanankartong IS NEWT GOING TO VISIT A SCHOOL IN NEW YORK OMG YES

— Tanner F. Bowen (@tannerfbowen) June 6, 2015
The author also revealed some news about the location of the school (hint - we don't think it's New York!).
@jk_rowling Will the [name of the?] Wizarding school in America have any relevance to the Native American-Indian culture?

— Phi Lav (@loonyloolaluna) June 7, 2015
Warner bros. has confirmed that Eddie Redmayne will be cast in the new film and will be taking on the role of 'magizoologist' Newt Scamander.
The studio describes the character as "The Wizarding World's preeminent magizoologist, who in his travels has encountered and documented a myriad of magical creatures."
We were also told at the end of the final film Luna Lovegood marries Newt's grandson Rolf Scamander when she grows up… so we wonder whether actress Evanna Lynch will be reprising her role as the ditzy Luna.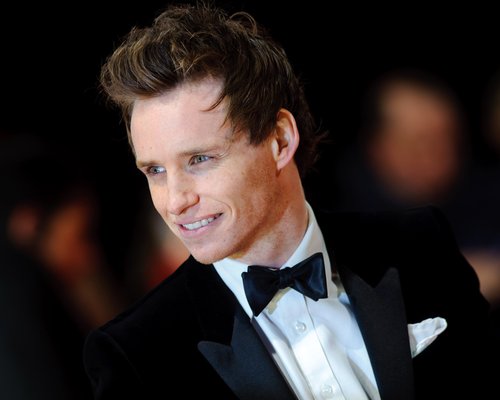 Directors have a pretty tough decision in front of them.
Three of Tinseltown's most gorgeous ladies are reportedly all vying for roles in the new 'Harry Potter' spin off 'Fantastic Beasts And Where To Find Them'.
According to online site 'TheWrap' Saoirse Ronan, Dakota Fanning, Lili Simmons and Alison Sudol are all vying for the role of Tina - a 'grounded' personality.
Whilst Kate Upton, Katherine Waterston and Elizabeth Debicki are potentially competing with one another for the role of Tina's gorgeous sister Queenie.
Warner Bros. has yet to comment.
The movie is set for release on 18th November 2016.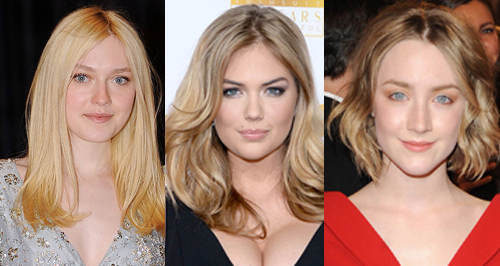 Eddie Redmayne has reportedly been in talks to play the lead role in the trilogy which is based on a Hogwarts textbook of the same name.
According to 'Variety', Redmayne was always a front runner for the part, and although intrigued he reportedly wanted to see a finished script before fully committing to the film.
Insiders now claim the 33-year-old actor has been sent the script and is happy with what he's read.
It's been four years since J.K Rowling's wizarding world came to an end in 'Harry Potter and the Deathly Hallows: Part 2' after eight film adaptations of her bestselling books, but this will be the first time the author tries her hand at screenwriting.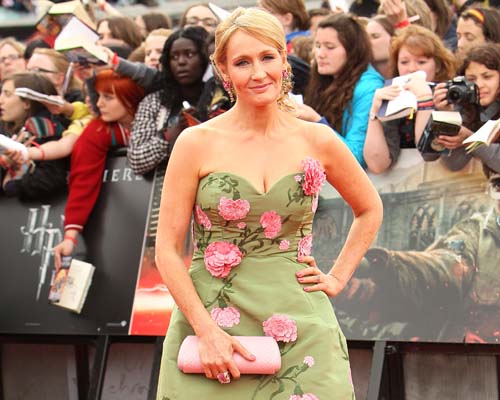 'Fantasic Beasts and Where To Find Them' follows the adventures of Newt Scamander, a "magic zoologist" who studies magical creatures within the wizarding realm. The author explains that Newt Scamander's book was a bestseller when it was first published in 1927. The book is an approved textbook at Hogwarts.
Despite being set in New York seven decades before the Harry Potter saga begins, J.K Rowling makes clear that the spin-off should not be seen as a prequel to the Harry Potter story.
Back in April the bestselling author explained: "Although it will be set in the worldwide community of witches and wizards where I was so happy for 17 years, 'Fantastic Beasts and Where to Find Them' is neither a prequel nor a sequel to the 'Harry Potter' series but an extension of the wizarding world."