Exclusive: Emma Watson's Mum Has Totally Got Her Back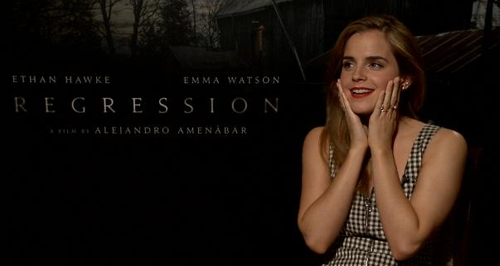 Emma Watson speaks exclusively to Heart about her first 'adult role', 15 years on from being cast as Hermione! 'Beauty and the Beast' gets a mention too...
Emma Watson may have just taken on one of her toughest roles yet but it's okay because her mum has got her back.
In her latest film, Regression - released in the UK on October 9th 2015 - the Harry Potterstar plays Angela Gray, the victim of a satanic cult - deep we know. Understandably, this was a tough role to crack but with some help and advice from her super-clever mum, Emma took on the challenge of her first 'adult role' and totally nailed it.
Speaking to Heart showbiz reporter Kevin Hughes, Emma talks about her mum, 15 years since Harry Potter and playing 'Belle' in Disney's upcoming Beauty And The Beast:
For the film, Emma reunites with actor David Thewlis (Professor Lupis in the Harry Potter films) who plays psychoanalyst Professor Kenneth Raine. Alongside Detective Bruce Kenner (Ethan Hawke) the pair work together to uncover the truth.
Alejandro Amenabar's eagerly anticipated thriller is sure to send shivers down your spine this this Halloween... Watch the trailer below and see what you think.