Has Filming For The THIRD 'Fifty Shades' Already Begun? New Picture Gives Telling Clue.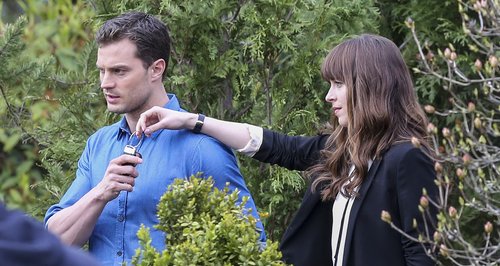 New pictures of Dakota Johnson and Jamie Dornan has raised speculation as to whether the cast have already begun filming the LAST instalment of the film.
The cast have barley begun filming the sequel to the first film, but new pictures are raising question as to whether the cast have already begun filming the LAST EVER instalment of the franchise.
Jamie Dornan and Dakota Johnson were both spotted on set wearing matching wedding bling, which suggests (if you haven't read the book!) that their characters Christina Grey and Anastasia Steele are set to get hitched.
If you're a Fifty Shades fan though and through, then you'll know that at the end of the second book Christian proposes to Anna and she says, yes.
So judging by these pictures, the second film is set to show what they look like shortly after marriage, or they've already gone ahead with filming scenes from the third book 'Fifty Shades Freed'.
Either way, we're too excited! Who knew among all those seedy bedroom antics, that there could actually be some serious romance on the cards?
While Dakota Johnson and Jamie Dornan reprise their roles as aspiring writer Anastasia Steele and the billionaire (not to mention, steamy) Christian Grey, Hugh Dancy has also landed himself a part in the upcoming sequel, Fifty Shades Darker.
Dancy, who's best known for playing Will Graham in the TV series Hannibal, will be taking up the role of psychiatrist Dr John Flynn.
Grey begins seeing Dr Flynn when his former lover, Mrs. Elena 'Robinson' Lincoln (Kim Basinger) appears back on the scene. It stirs up memories for the billionaire as Mrs Robinson was the one who introduced him to the saucy world of S&M...
Jamie Dornan and Dakota Johnson's STEAMY Kiss Will Give You Tingles
Update 2nd March 2016
Movie fans will be thrilled to see the much anticipated film is underway, as the two actors were pictured getting up close and personal in the streets whilst filming their new movie in Vancouver, Canada.
Dressed smartly and keeping dry under a HUGE umbrella, the pair turned up the temperature with a passionate kiss despite the rain...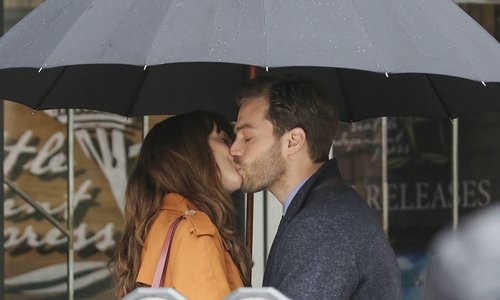 Dakota and Jamie share a steamy smooch on set. Picture: Splash
Updated 17th February 2016
STOP EVERYTHING. After what seems like a long dry spell, the new Fifty Shades Darker film is FINALLY on it's way!
Novelist E.L James took to her Instagram to share a picture from the set, as the cast began shooting their first scenes from the sequel.
Sharing a picture of the official clapper board, she wrote: "Day one #FSD Good luck to all the cast and crew (heart emoticon)."
We didn't catch a sniff of Jamie Dornan in the snap, but co-star Dakota Johnson was spotted jetting into Canada airport to begin her first few days on set.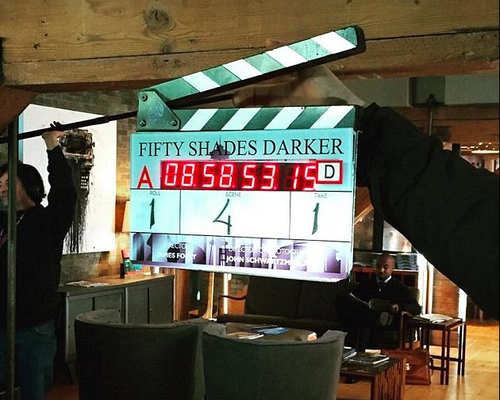 Update 29th January 2016:
Just when we thought Fifty Shades Darker couldn't get any sexier, they could be giving us a double dose of sexy with a hot new addition to the cast. Fans for the raunchy movie franchise will be thrilled to discover Kim Basinger will be the leading lady playing Christian's former lover.
According to sources close to 'Variety' magazine, Academy Award winner Kim Basinger is set to play the character of Elena Lincoln - Grey's Business partner and former flame.
Her character was hinted at in the first movie and fans have been excitedly waiting to find out who will play the coveted role.
Basinger will star alongside Dakota Johnson and Jamie Dornan who are both returning to reprise their roles of Anastasia Steele and Grey.
Update 21st August 2015:
Yes, Universal may in fact have found their next director for 'Fifty Shades Darker' following Sam Taylor-Johnson's departure from the production.
'The Hollywood Reporter' claims that a man could be a strong choice to helm the next installment of E.L James' sexy novel, with Jamey Foley, Mark Pellington and Tanya Wexler all in the running. There has been no decision made just yet, but the process is thought to begin next week.
Hmmm… a male describing women's fantasies… let's leave it to the ladies on this one guys!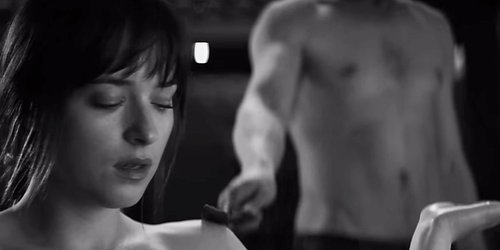 Update 27th May 2015:
According to reports the 'Batman vs Superman: Dawn Of Justice' actor will be introduced as Jack Hyde, Anastasia Steele's villainous new boss when she takes up a new job at a publishing company.
If the reports are true, Cavill will make a sexy new addition to the cast which is undoubtedly going to please fans of the naughty flick.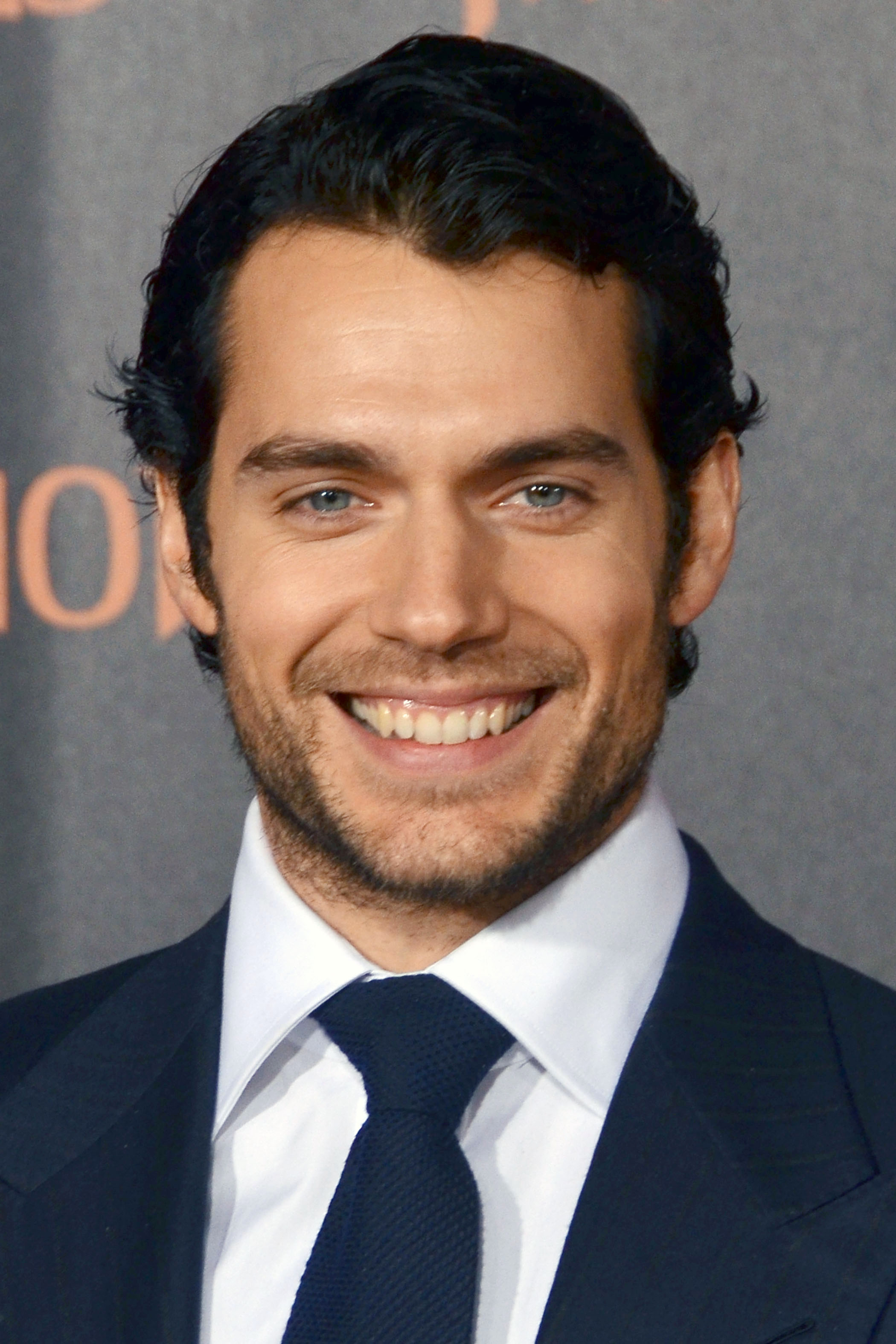 The sequel to E.L James' steamy novel is thought to introduce a host of famous faces including Charlize Theron as the illusive Elena Lincoln, who infamously introduced Christian Grey to the dark world of BDSM.
Meanwhile, Cara Delevingne is highly speculated to join the cast and it's claimed the supermodel could show off her acting finesse when introduced as Christian's ex-submissive Leila Williams.
Update: Friday 8 May 2015
Good news ladies! Jamie Dornan, 33, has reportedly been offered £985k to go full frontal in the Fifty Shades follow up 'Fifty Shades Darker'. The hunky actor, who will return as Christian Grey in the film adaption of E.L James' naughty novel, has been asked to 'briefly bare all'.
A studio source revealed: "They have assured Jamie that it won't be overt but more of a brief tease, and he'll have some creative control over how it's handled."
Update: Friday 1 May 2015
If the answer to this is "yes, yes please!!", then look no further than the very first teaser trailer to the sequel of 'Fifty Shades of Grey'.
21 months ahead of the film's release a 30 second clip has been posted to whet fans appetites. The clip shows Jamie putting on a masquerade mask as it asks views if they're ready for something…darker?
Update: Monday 27 April 2015
The first picture of Jamie Dornan as Christian Grey from the new movie has dropped…
The photo, which shows Dornan donning a kinky night mask whilst dressed in a smart tuxedo will certainly whet fans appetites. The Irish actor looks smouldering in the still from the new teaser which will be available to view when you buy 'Fifty Shades of Grey' on Blue-Ray - out May 8th.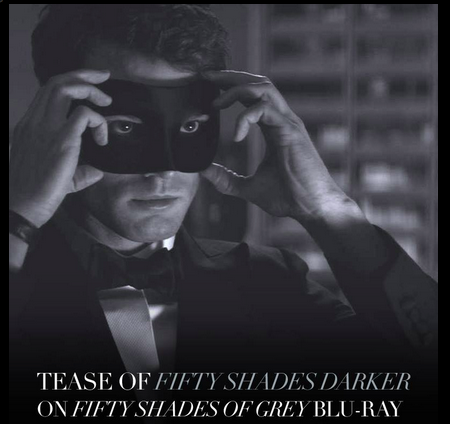 good news for Fifty Shades of Grey fans everywhere, as Variety reports that the studio has announced that Fifty Shades Darker and Fifty Shades Freed are scheduled to debut on February 10th, 2017 and February 9th, 2018, respectively.
The hotly anticipated sequels will see Dakota Johnson and Jamie Dornan return to continue the story of Anastasia Steele and Christian Grey.
However not everyone will be returning when shooting begins this summer, as director Sam Taylor-Johnson is thought to have quit the franchise after a series of bust-ups with author E.L James throughout the editing process.
James was reportedly keen to take on the script herself, however The Hollywood Reporter claims the 52-year-old writer's husband Niall Leonard will be tackling it instead.