10 Movies For Anyone Trying To Survive Their 30s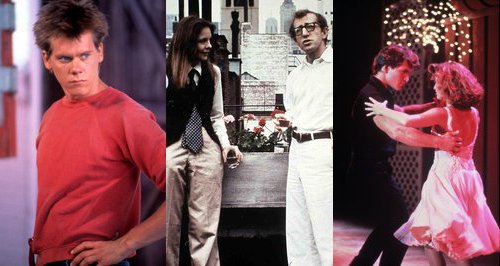 Let's face it, your 30s can be a turbulent decade- you've got through the awkward self-exploration of your 20s but you're not quite as self-assured as you will be in your 40s…yet!
What better way to get through the decade than by revisiting some film classics? Take solace in Harry and Sally's conundrums in 'When Harry Met Sally', be inspired by Baby and Jonny's romance in 'Dirty Dancing' and be touched by the unexpected friendships in 'The Breakfast Club.'
The Breakfast Club:
A brain, a jock, a criminal, a princess and… a complete fool. The unlikely friendship sparked between this motley crew will leave your heart thoroughly warmed and will restore your faith in cheesy American High School films.
Dirty Dancing:
'Nobody puts Baby in the corner.' YES Patrick Swayze. Just try and resist the urge to fist pump when Patrick Swayze speaks these words at the end of the film. If you are in need of some inspiration, put Dirty Dancing on and get ready to be mesmerised by the moves (we don't recommend trying the iconic end 'lift' at home…)
Back to the Future:
You think you are struggling with life? At least you haven't been sent back to 1955 in an unsuspecting 'time machine' with your only hope for return being a crazed scientist. 'Great Scott' Marty McFly, you better hope Dr Brown gets generates those elusive '1.21 gigawatts!'
When Harry Met Sally:
Can a man and woman just be friends? Harry and Sally explore this question and all sorts of hilarity, poignant moments and enlightening conversations ensue. The characters' addictive personalities make it an all time great in the uplifting world of rom coms. Oh, and we all remember THAT café scene! 'I'll have what she's having'- wiser words have never been spoken.
Footloose:
Take a trip down memory lane and relive the joys of old school Kevin Bacon throwing some serious shapes. The trials of moving to a town where dancing has been banned brings out the hero in Ren McCormack (Kevin Bacon.) This film is serious motivational material: if Ren can make things happen, so can you. Dancing around your living room has never felt so good!
The Graduate:
Poor old Ben is fresh out of university and unable to navigate the maze of his love life, never mind figuring out a career. Affairs, confusion and unrequited love, Ben has a dose of it all. This classic is guaranteed to make you feel better about your life decisions.
The Shawshank Redemption:
If you are looking for tales of survival, the story of Andrew Dufresne is the one for you. The hot shot banker is sentenced and convicted to life imprisonment for the murder of his wife and her lover but finds the most remarkable ways to keep going in the notoriously grim Shawshank prison. A tale of friendship, determination and, as the name implies, redemption. Get the tissues at the ready and prepare to be moved.
Harold and Maude:
A touching tale of unlikely friendship. 20 year old Harold and 79 year old Maude become best pals after meeting at a funeral. Maude teaches Harold the joys of living for the moment, transforming his life and reminding us that friendship turns up in the most unexpected places.
Top Gun:
Who would have thought a film about aviation would be so much fun. But it is, it really is. While you might not be able to relate to life as an expert United States Naval pilot, the pace of this film will keep you pinned to the edge of your seat and will make you believe you can achieve your dreams (aviation related or otherwise.) With an awesome soundtrack, Tom Cruise doing his thing and a spoonful of romance thrown in, Top Gun is definitely one to help you through a tough day.
Annie Hall:
Relationship struggles? Annie Hall can help you here. Comedian Alvy Singer retraces his steps through his relationship with Annie Hall to try and work out what caused them to break up. One of the most famous neurotic couples will guide you through the ups and downs of love, leaving you bewildered, amused but ultimately reassured that things will work out ok.