Frozen 2… According To Us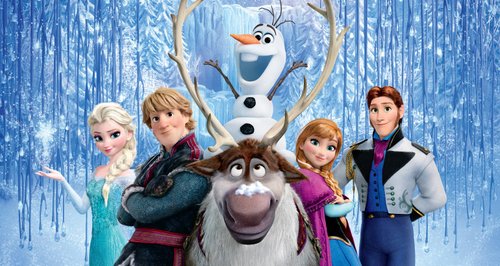 This is what would happen...
From a royal wedding to Elsa finding love (we're looking at you Olaf?!?!), this is what we want to see happen in 'Frozen 2'…
We loved that Elsa told her younger sister she couldn't marry someone she'd just met, but now Anna and Kristoff have been together a while, we think it's time for a royal wedding.
Olaf FINALLY gets his summer vacation lying on a beach and having picnics with his friends.
Hans has become one of the most hated Disney's villains of all time after his faux nice guy routine but we'd love to see him redeem himself in 'Frozen 2' and come back as a good guy.
The gang discover how Elsa managed to created Olaf. Has she got a new power? Is he even a real snowman? Who knows…
Poor Kristoff only got one tiny song in 'Frozen', so we think in the sequel he should get a full-length, no-holds-barred musical number.
Now that's Anna's met 'the one' we think it's time Queen Elsa met the right guy. Up for the challenge Olaf?!?!
We couldn't get enough of Kristoff's adopted troll family in the first film, so we think it's about time they visited the castle, preferably for a wedding…
Elsa struggled so much controlling her powers in the first film, we'd like to see her enjoy them a bit more in 'Frozen 2'. Without having to hide her ability, she could remember how much fun they used to be.
Sven might be the only one of gang who can't talk but his goofy 'conversations' with Kristoff and funny facial expressions mean we'd totally be up for a reindeer spin off.
Anyone else really keen to see Weselton? Road trip!