This Creepy GIF Has Harry Potter and Lord OF The Ring Fans FREAKING Out.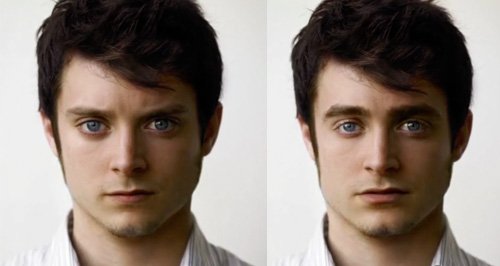 Err, we had NO idea that Harry Potter and Frodo Baggins were basically related...
Think you'd be able to spot Daniel Radcliffe from a mile off? Or are you a die-hard Lord Of The Rings fan who could tell the real Frodo Baggins from a doppleganger?
Well a new GIF on the internet has even the most die hard of fans confused as two pictures of Daniel Radcliffe and Elijah Wood morphing together appear to show just how identical the actors really are.
Of course the animated picture has gone viral and has already reviewed over 8 million views on photo-sharing website Imagur.
The creepy moving image shows 26-year-old Daniel slowly morphing into Elijah, 35, before turning back into Daniel — with very little change to his face, making fans question exactly which actor they are looking at.
View post on imgur.com
This isn't the first time there has been confusion between the pair as they were regularly compared to each other throughout their early careers.
"It's because the idea of us is the same," Daniel explained on Marc Maron's WTF podcast in November. "We're both kind of short guys with big blue eyes and brown hair. And we did fantasy movies that came out at the same time."
Either way, they're both gorgeous!