Rupert Grint Explains Why THAT Kiss With Emma Watson Was TERRIBLE!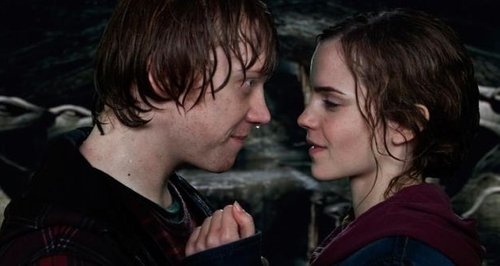 While most guys would consider kissing Emma Watson as the ultimate LAD GOALS, Rupert Grint begs to differ.
Most Harry Potter fans were overjoyed when Ron Weasley and Hermione finally confirmed their feelings for each other with a kiss but Rupert Grint claims he can't bare to watch it back.
The liplock between the two wizards is probably one of the most memorable moments of the seven films (apart from Harry's kiss with Ginny of course!) so we couldn't get our heads around why Rupert doesn't feel the same way about kissing such a hottie.
Well, the flame-haired actor sat down for a chat with People Magazine and gave them the low-down on what made kissing co-star Emma such a weird experience.
"I never look back at that scene. I've known Emma since she was literally 9-years-old and we had this very brother-sister relationship," Grint explains before admitting that memories of the kiss are a little fuzzy.
He continued: "It just felt very surreal. I have a memory of her face getting closer and closer. Like, 'Oh my God.' I can't really remember anything apart from that."
Despite achieving the ultimate LAD points by smooching Emma Watson, Rupert explains that one kiss was traumatic enough and the pair managed to wrap up the scene in one take.
Gosh Rupert, you had to kiss Emma Watson... what a tough life you have!