The Most Heart-Breaking Moments In Family Films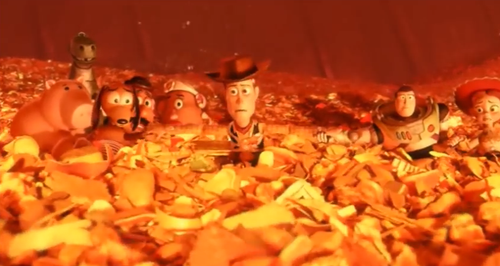 'Up', 'Bambi', 'Toy Story 3'... If you think family movies are all sunshine and rainbows you're in for a rude awakening. Check out some of the most tear-jerking scenes from your favourite childrens' films...
'Up'
The opening scenes from 2009's 'Up' always have us in floods of tears. Carl and Ellie are childhood friends who bond over their love of adventure and eventually grow up and get married, but it's the montage of their lives together that really gets us going. Although they're more than happy together it's a bitter sweet love story as they realise they can't have children and instead dream of escaping to South America. Sadly though, Ellie dies before their dream can come true...
'The NeverEnding Story'
Who can forget the heart-breaking moment that Atreyu lost his horse and best friend, Artax in 'The NeverEnding Story'? The 1984 film sees a young boy called Bastian discover a book about the amazing world of Fantasia, which is home to many incredible characters including Atreyu who's on a quest to save The Childlike Empress. Unfortunately, they're plenty of dangers in his way...
'Bambi'
For the most part Disney's 'Bambi' is a cheerful and happy children's film about a young deer and his friends growing up in a forest but the start is anything but joyous. The reason Bambi is alone is because his mother is killed during the opening credits in a harrowing ordeal with a hunter. It the kind of scene that makes you question whether this film is really for kids...
'Toy Story 3'
The 'Toy Story' trilogy is full of heart-wrenching moments as well as happy ones, but nothing had us in tears quite like the furnace scene in 'Toy Story 3'. Yes, that's right, we're talking about the moment the toys are trapped in a fiery furnace about to be destroyed with seemingly no chance of escape. We dare you not to cry as they hold hands and stare into the flames...
'My Girl'
This coming of age story about a young girl called Vada is a classic, but be warned it is pretty sad as well. As if it isn't bad enough when Vada's friend Thomas J dies from a tragic bee attack, his funeral scene is beyond upsetting as Vada cries over his coffin and tries to deal with her pain by yelling at the assembled mourners. If you can get through this without crying, you're one tough cookie...
'The Lion King'
Anyone who's seen Disney classic 'The Lion King' knows that when it comes to heart-breaking death scenes Mufasa wins hands down. After heroically rescuing his son from a dangerous stampede, the animal King gets thrown back into danger by his jealous brother and is trampled to death. It gets worse though as the young Simba finds his Dad's lifeless body and believes its his fault...
'A Little Princess'
When Sara Crewe loses her Father and becomes little more than a slave at the boarding school where she lived we felt her pain. But it was nothing compared to the moment when she discovered her Father hadn't died after all but had lost all memory of her. About to be carted off to prison she screams for her Papa as he looks on in confusion. Now that's heart-breaking...
'Dumbo'
With Dumbo being ridiculed for his big ears throughout the film the whole thing is pretty depressing, but the one scene that really gets us upset is when Dumbo's mother is locked away for attacking a boy who was hurting her baby. Labelled mad and chained up, all she can do is reach her trunk down to cradle Dumbo as he weeps. Sniff, sniff...
'Wall-E'
As the last robot left on Earth Wall-E is more than a little lonely but when he meets EVE (a probe sent back on a scanning mission) he is smitten and decides to follow his new friend across the galaxy. They eventually get stuck in a garbage disposal which sucks rubbish into outer space and after heroically rescuing Wall-E, EVE makes it her mission to fix him. Aww...
'Homeward Bound: The Incredible Journey'
This story about three pets who go on an incredible adventure in an attempt to be reunited with their owners is a '90s classic. There are lots of emotional moments as Shadow, Sassy and Chance run from one danger or another, but its when the ageing Shadow falls into a hole and can't get out that really gets us upset. After coming so far it's heart-breaking to watch him give up so close to home...
'The Land Before Time'
This might be a story about dinosaurs but that doesn't mean we don't get all weepy when the young dinos get separated from their parents under tragic circumstances. The worst bit has to be when Littlefoot watches his mother die as she tells him she'll always be with him and he's left alone to fend for himself. Take a deep breath...
'The Hunchback Of Notre Dame'
We're pretty sure 'The Hunchback Of Notre Dame' has one of the most heart-breaking moments in any Disney film ever as Quasimodo is tied up and ridiculed by the towns people. As they throw food and laugh at him, he calls out for help but is ignored by his Master and left to be tormented. Talk about painful to watch...
'E.T.'
This iconic kids movie has a happy ending but we still cry every time E.T. says goodbye at the end of the movie. After going on an incredible journey to make sure the extra-terrestrial gets home, Elliott realises he isn't ready for his friend to leave and asks him to stay. Sadly, E.T. has to go but tells his friend that he'll be right here (pointing at his head). There won't be a dry eye on the house...