Helena Bonham Carter Tells How She Designed THAT Dress And Brought The Magic To Cinderella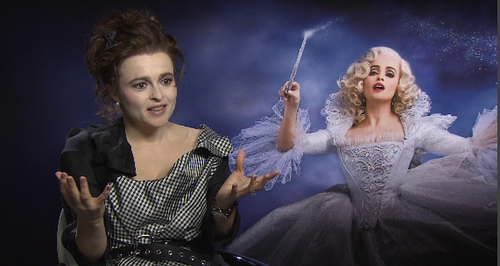 The quirky and wonderful 'Cinderella' star tells all about the making of the movie and her role as the Fairy Godmother. She talks about her wardrobe malfunctions and why she needed to be 'turned on' (literally!) on set...
Being "turned on" might bring all sorts of connotations for some, but for Helena Bonham Carter the phrase describes her daily routine on set as she revealed the crew had to physically turn on all the LED lights on her costume.
As Fairy Godmother in Disney's latest offering 'Cinderella', the star dazzles in a white and silver ball gown electronically wired with over 400 LED lights which added a magical touch to her costume.
Talking about her awkward encounters with the wardrobe department, she told Heart Showbiz reporter Kevin Hughes: "I got turned on by Florence who literally switched me on because i was a waking lamp!"
She laughed: "I had about 400 LED lights on my dress…and it had to be switched on for every take! So I literally had [the crew] up my skirt."
Disney's live-action version of the classic fairytale sees Helena star alongside Lily James as Cinderella and Richard Madden as the prince.
The film hits cinemas on Monday 30th March.