The Sexiest Movie Accents EVER!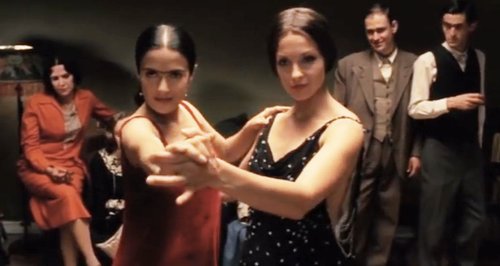 From sultry Mexican drawls to hot Irish brogues, we round up the hottest film voices in cinematic history. Which is your favourite?
1. Penelope Cruz - 'Vicky Cristina Barcelona'
Woody Allen's romantic drama starring Penelope Cruz, Scarlett Johansson AND Javier Bardem is packed with some serious sex appeal! However, it's the 41-year-old Spanish actress who really steals the show. We can't hide our admiration for the skill with which the tempestuous Bardem's on-screen ex-wife Maria Elena quickly swaps between heavily accented English and sexy Spanish in the movie.
2. Andrew Garfield - 'The Social Network'
The 31-year-old half American, half English actor has a nack for accents. The talented (and very good-looking) actor who plays Brazilian entrepreneur Eduardo Saverin pulls off the tech wizard's American twang with
aplomb
in this famous film about the early days of Facebook. What can we say, we're suckers for that sexy South American lilt.
3. Amy Adams - 'American Hustle'
It's not just the 40-year-old actress' scarlet hair and gorgeous face that make Amy Adams a bonafide on-screen siren, her penchant for accents is rather impressive too. No wonder Christian Bale's con artist character Irving Rosenfeld is such a fan.
4. Colin Farrell - 'In Bruges'
The 38-year-old Irish actor does a stellar job as the contract killer with a morally confused compass in this hilariously dark comedy… and although we know we probably should't fancy him, that Irish brogue makes it hard!
5. Ryan Gosling - 'Drive'
Okay, granted the actor doesn't speak much in this edgy movie… but, that just makes him all the more appealing when he finally does open his trap! We're suckers for a dark and brooding fella and Gosling's Driver is our enduring man crush… don't even get us started on when he kisses Carey Mulligan's Irene in the lift!
6. Daniel Day-Lewis - 'The Age Of Innocence'
Accents are sort of Daniel Day-Lewis' thing. The legendary actor has dabbled with varying success in everything from Irish - very successful ('In the Name of the Father') to Czech - less successful ('The Unbearable Lightness of Being'), but it's his portrayal of the American aristocrat Newland Archer that has us crying out for more!
7. Hugh Laurie - 'House'
As far as we're concerned Hugh Laurie makes the perfect Dr. Gregory House - cantankerous, daring and brainy to boot! The only issue with the casting - Laurie is English. Luckily the 55-year-old silver fox manages to pull off a not only convincing but also very suave American accent. Swoon.
8. Antonia Banderas - 'The Mask of Zorro'
What is sexier than a caped crusader? Not much is the answer, as Antonio Banderas, sorry, Zorro proves. The Spaniard brings drama and sizzle to the big screen with his killer stunts and foreign drawl.
9. Angelina Jolie - 'Shark Tale'
There was a reason the 39-year-old actress was picked to be the voice of the crafty Lola in the 2004 film. Jolie's sultry voice is perfect for the sensual fish with a bad girl attitude! We're not surprised little Oscar fell for her wily charms.
10. Salma Hayek - 'Frida'
The Mexican actress dazzles in the role of the famous painter. The 48-year-old actress brings passion and intensity to her portrayal of the legendary artistic figure which was recognised in her Oscar nomination for Best Actress for the role.