10 Times Hugh Grant Nailed Being A Romantic Movie Leading Man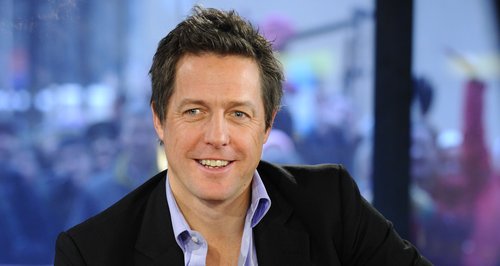 Is there anyone who doesn't love Hugh Grant? To celebrate the BFI's Season of Love with Plusnet and the chance to win a tech bundle, here are 10 times Hugh Grant nailed the rom-com in videos and gifs…
The Brit leading man is known for his two interchangeable characters; loveable, geeky romantic (think 'Notting Hill' and 'Four Weddings and a Funeral') and arrogant lothario (yep, like in 'Bridget Jones'). Here are some of his best moments…
1. He knows how to melt hearts
Is there a better British romantic movie than 'Notting Hill'? Hugh stars as William Thacker – a loveable, foppish leading man who falls for Julia Roberts' Hollywood movie star character Anna. The best moments have to be that dinner party scene and the moment he sneaks into the final press conference as a representative of 'Horse and Hound' magazine. Classic.
2. He rocks the important speeches
'Four Weddings and a Funeral' may look a tad old-fashioned now – especially those bouffant wedding dresses – but it's still a brilliant chapter in Hugh Grant's movie career. We love his brilliant best-man speech in the video below, and the moment he hides in the cupboard from the, errrm excited newlyweds…
3. He's dashing in period dramas
Emma Thompson won an Oscar for her take on Jane Austen's 'Sense & Sensibility', but it was Hugh Grant who stole our hearts as Edward Ferrars. He was very often confused, a little bit geeky and under the thumb of his crazy mother, but we loved him anyway.
4. He knows how to pucker up
Sandra Bullock and Hugh Grant had amazing chemistry in 'Two Weeks Notice', which managed to be funny, poignant and romantic all at the same time. We hated him a little bit when he drags Sandra's character out of a wedding to help him choose a suit, but then we loved him when she passed out drunk on his boat. Ahhh, excuse us while we go and watch the DVD for the fiftieth time…
5. He's charming (even when he's an idiot)
'About a Boy' is perhaps most well known for its 'Killing Me Softly' scene, but it's also packed full of classic Hugh Grant moments. Need a little reminder? Take a look at this great clip below…
6. He knows how to turn on the comedy
Hugh Grant and Julianne Moore made an excellent pairing in 'Nine Months', alongside Joan Cusack and Robin Williams. About 90% of the film is laugh-out-loud funny, but we find Hugh Grant most adorable when he's panicking during Julianne Moore's labour. Watch Samuel and Rebecca in action below…
7. He's not afraid to make a fool of himself
Hugh has admitted that his dancing scene in 'Love Actually' was one of the most embarrassing things he has ever done, but it's also one of the most brilliant. This is one of those films where Hugh managed to fuse his loveable geeky side with his suave and sophisticated alter ego. We can't get enough at Christmas time!
8. He's good at grand gestures
Although he swore he'd never sing and dance again after 'Love Actually', Hugh let that slide for 'Music and Lyrics' with Drew Barrymore. Not only did he make 'Pop Goes My Heart' a rom-com classic track, but he also performed this lovely little serenade towards the end of the film. What do you make of it?
9. He plays the bad guy we love to hate…
The ultimate bad boy version of Hugh Grant has to be his character in 'Bridget Jones' Diary', who was as awful as he was hilarious. Daniel Cleaver may have cheated on Bridget, punched Mark Darcy and left Bridget to rot in a Thai jail in 'The Edge of Reason', but we still look forward to his screen appearances.
10. He's just as good as a silver fox
'The Rewrite' didn't have the same oomph as some of Hugh's classic rom-coms, but we enjoyed his witty banter with Marisa Tomei's character Holly. He may be 55-years-old, but Hugh is still a dashing leading man. Check him out in the clip from 'The Rewrite' below...
Heart and Plusnet are showing the love by giving you the chance to win a tech bundle by loving someone back, click here to enter.