'Women Don't Get To Be Aggressive!' Jennifer Aniston On Her Sexy Role In 'Horrible Bosses 2'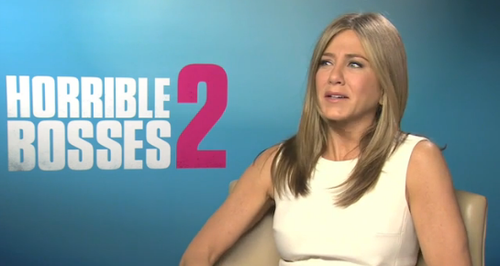 The 45-year-old actress speaks exclusively to Heart about why she loved showing off her sexual prowess when playing man-eating vixen, Doctor Julia Harris, in the latest instalment of the comedy films.
Jennifer Aniston is back and more outrageous than ever in some hilarious plot lines which sees her character Doctor Julia Harris engaging in a string of naughty antics.
"[I don't get embarrassed] that's the character." Jennifer explained to Heart's showbiz reporter Kevin Hughes about reading the scripts for her sexually charged scenes. "I get excited, rarely do women get the chance to be that aggressive."
The film, also starring Jason Bateman, Charlie Day and Jason Sudeikis, sees the trio giving up their horrible day jobs in favour of starting their own business until scandal, revenge and comedy ensues.
Meanwhile, could Jennifer be eyeing up a role as super hero in future? Watch the whole interview to find out!
'Horrible Bosses 2' is out now!