EXCLUSIVE: Did Jennifer Lawrence Get Kicked In The Face By Her 'Hunger Games' Co-Star?'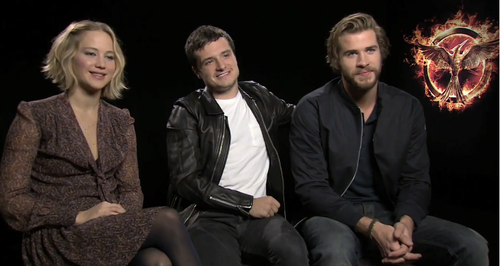 The stunning actress revealed in an exclusive chat with Heart that she was left with a nasty injury after being "round kicked in the face" when reprising her role as Katniss Everdeen in the latest film-adaptation of Suzanne Collins' fantasy novels.
It wasn't all fun and games on the set of the latest Hunger Games film, as Jennifer Lawrence claims she had to cut filming early after she was accidentally kicked in the face whilst performing some of the films intense fighting sequences.
"I got round house kicked in the face in this [movie] by a stuntman," she told Heart's showbiz reporter Charlie Girling. "[I don't know if he felt bad] I went home, I didn't stick around to see how he reacted!"
Whilst J-Law managed to escape the incident scar-free, her co-star Josh Hutcherson revealed he also got roughed up whilst on set and the "relentless" fight scenes even saw him being clipped in the ear with a metal tray.
Ouch! That must have been painful!
Watch our chat to find out what else Jennifer, Josh and Liam Hemsworth had to say!