YES! Mary Poppins And Other Theatre Classics Could Be Coming To A Cinema Near You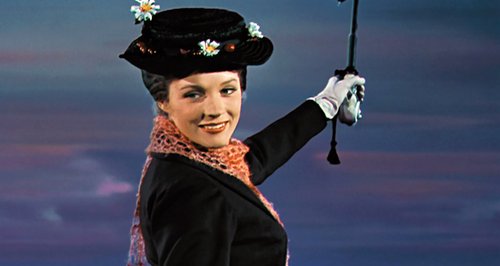 Looks like we won't be saying so-long-farewell-al-verde-sein just yet to these classics.
From Mary Poppins to Matilda, our favourite musicals have a way of bringing out the theatrical hairbrush singing diva in all of us.
But despite our excitement at some of Disney's most magical films being brought to life on the big stage, we just can't help but wonder when we will have some more theatre musicals in film form.
*sniff sniff* Is that a musical movie we smell?
As if by magic, Hollywood have finally heard our cry for more singing and dancing theatre classic movies! After a highly anticipated wait, these are the theatre plays that could be coming to cinema screen near you in the foreseeable future...
Mary Poppins
With a click of her heels, a spoon full of sugar and her magical flying umbrella, actress Emily Blunt is set to replace Julie Andrews in the sequel to the Disney classic, Mary Poppins!
The Disney feature film, set for release in 2018, will follow the journey of a grown-up Michael and Jane Banks during the Depression-era London as the family face a great tragedy. We're sure London's favourite nanny will have something in her never-ending bag of tricks for that one.
Wicked
After much pleading and green paint, the film adaptation of the famous theatre play, 'Wicked' is FINALLY on it's way!
We kid you not. Due for release on the 20th December 2019, fans can look forward to belting out 'Defying Gravity' in their local cinemas with a mouthful of popcorn and some watered down coke.
Now that's magical.
Beauty And The Beast
Can a tale as old as time and a song as old as rhyme ever be told better than the animated Disney classic, 'Beauty and the Beast'?
Well fans won't have that long to wait to find out!
Set to hit our screens on the 17th March 2017, our traditional beauty, Belle will be played by Emma Watson in the live remake that looks chillingly inviting.
Be our guests and check the trailer out for yourselves below.
Matilda
The original 1990's film version of Roald Dahl's 'Matilda' still holds a dear place in all of our hearts. But you might have to wait just a little bit longer than expected to see if the remake can ever live up to the childhood classic movie.
Written by comedian Tim Minchin, the new 'Matilda' musical flick is expected to be sharp and witty. But due to contract obligations, we can't expect to see Matilda's extraordinary classroom powers until 2019 - as no screen adaptation can be released until six years after appearing on broadway.
West Side Story
With a director like Steven Speilberg, we're sure the new film for 'West Side Story' will be nothing shirt of AMAZING!
Confirming the news in June this year, the Jurassic Park director told the Hollywood Reporter that he will also be workng alongside Angels In America play-write Tony Kushner as well as Fox and MGM.
No date has been confirmed just yet, but just know...'Something's Coming'