Disney Reveals 10 New 'Star Wars' Films In The Pipeline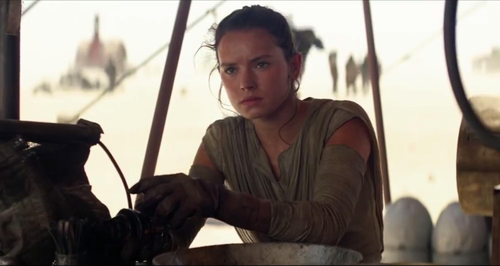 Are you already having withdrawal symptoms from a galaxy far, far away? Never fear...
Update 8 March 2016:
STAR WARS FANS REJOICE! ...You heard us right, Disney is planning not one, not five, but TEN new 'Star Wars' movies!
This whopping number of intergalactic themed projects doesn't even include spin-offs - they're extra.
With so much for directors and producers to sink their teeth into in terms of characters back stories and futures, we're definitely not surprised that the big guns are plotting so many more feature films. Hurrah!
Original Story: Filming For 'Star Wars Episode VIII' Has OFFICIALLY Begun!
It feels like we're still reeling over the shocking yet epic ending of Star Wars Episode VII but there's no time to dwell because Disney have confirmed that filming for the next instalment has already begun!
According to to Entertainment Weekly, Disney CEO Bob Iger confirmed the news, as well as revealing that filming for the final part of the saga - Episode IX - is also on the way.
Cast Members:
Among the stars featuring in Episode VIII will be The Usual Suspects and Sicario actor Benicio Del Toro as well as Jurassic Park and Wild actress Laura Dern.
Newcomer Kelly Marie Tran (About A Boy) also joins the line-up and although no further details have been given on their roles, Del Toro (Traffic, Snatch) is expected to play a baddie.
The trio will join among others, Daisy Ridley, John Boyega and Mark Hamill, who also starred in Episode VII.
The new writer and director Rian Johnson has also been announced and replaces JJ Abrams in the director role.
A Facebook post read: "We are thrilled to announce Benicio Del Toro, Laura Dern and Kelly Marie Tran will join Daisy Ridley, John Boyega, Mark Hamill and director Rian Johnson for Star Wars: Episode VIII, which begins shooting at London's Pinewood Studio today.
"May the Force be with you, always."
Boyega, who plays the role of Finn and was awarded the Rising Star Bafta on Sunday night, tweeted: "First day on Star Wars 8 complete ! We must face them! Fight them!"
And to excite fans even more, the Star Wars spin off film Rogue One was "virtually complete".
He said: "There is no better way to propel this franchise into the future than producing quality products. Filming of Star Wars: Episode VIII, the next chapter of the legendary saga, has just commenced and it will be in theaters December 2017. And production of Episode IX, a 2019 release, has also begun.
"Filming of Rogue One is virtually completed and we absolutely love what we've seen so far. This is the first of a set of planned stand-alone stories and we're already in preproduction on our next one, for release in May of 2018."
The next film is due to be released on 15 December 2017 - so make sure you put it in your diaries and bookmark this page.

Disney Unveil Plans For American Theme Park Expansion:
Harrison Ford, who plays Hans Solo have unveiled exciting details about the brand new theme park!
The rides will be the newest galactic addition to Disneyland in Anaheim, California, and Walt Disney World in Orlando, Florida, and will span 14 acres each.
"Star Wars is, for lack of a better word ... awesome." Ford said. "I'm so blessed that I had the opportunity to be a part of it, to walk in these iconic locations.
"And soon, you'll be able to do that as well. Not in a galaxy far, far away, but in a place close to home."
An orchestral performance of Star Wars Live In Concert celebrated the upcoming film at the Dolby Theatre in Hollywood.
We can't wait for the experience to be open to the public!