EXCLUSIVE: Take That Reveal They 'Begged' Howard For A Wedding Invite.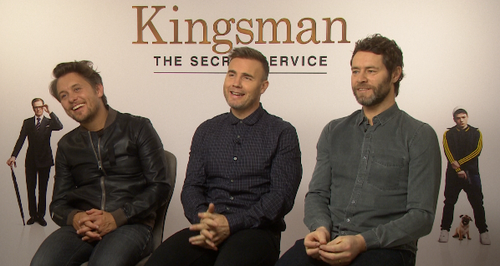 Watch as Gary Barlow and Mark Owen reveal in an interview with Heart all the details on Howard Donald's wedding and their song 'Get Ready For It' featured in upcoming film 'Kingsman: Secret Service'.
Gushing groom Howard said it feels "brilliant" to officially be a married man after he recently tied the knot to long-term girlfriend Katie Halil in a secret wedding ceremony shortly after New Year's Day.
Speaking about his big day, the singer told Heart: "It's brilliant, we kind of kept it under wraps a little bit because we wanted to keep it as private as possible, it was a fantastic day."
According to bandmate Mark, the intimate nuptials were so low-key that he and Gary weren't initially on the guest list!
"He almost didn't invite us, I mean we had to work hard to get to Howard's wedding." Mark laughed before adding, "We had to beg, it was very exclusive!"
Meanwhile the newly formed trio dished on their brand new song 'Get Ready For It' which is featured on the soundtrack for 'Kingsman: Secret Service'.
The video sees the boys kitted out in designer suits as they pretend to be secret agents, but Gary claims their poor acting skills wouldn't land them a cameo alongside Colin Firth, Michael Caine and Samuel L Jackson as he joked: "There is no way we're going to be in that movie!"
'Kingsman: Secret Service' lands in cinemas on January 24.
Watch the boys' FULL INTERVIEW!