No WAY Has It Been 10 Years Since 'The Devil Wears Prada' Came Out?!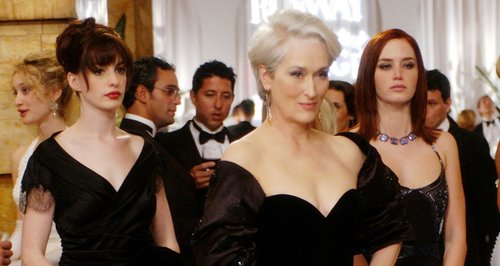 Yep, the hit movie that gives us the inside scoop on the fashion industry, is now a decade old! But the cast members are looking fresh as ever...
Anne Hathaway aka. Andy Sachs
She went from wanna-be journalist and frumpy assistant to fabulous, albeit slightly hollow righthand woman to the most powerful woman in the fashion industry.
Interestingly the 23-year-old wasn't actually producers first choice for the role (it was actually Rachel McAdams). But Hathaway shone in the 2006 film, gaining commercial and critical acclaim and ensuring she was first pick for plenty of later roles.
Anne Hathaway Now
The 33-year-old actress continues to shine on the big screen in a variety of roles. After starring alongside legendary acting veteran Robert De Niro in 'The Intern' last year, she will also be appearing in 'Colossal' and 'Alice Through the Looking Glass' later this year.
She also met her now husband Adam Schulman in 2008 and the pair have a son together, named Jonathan Schulman.
Meryl Streep aka. Miranda Priestly
The ruthless head of 'Runway' magazine was without doubt one of the the scariest and most ruthless characters we've ever encountered in film... still to this day!
The silver-haired editor had certainly been round the block and didn't suffer fools gladly!
Meryl Streep Now
The 66-year-old actress has been nominated for 19 Academy Awards in total - including one for this feature film.
She wowed audiences in the historical drama 'Suffragette' in 2015 and is currently starring alongside Hugh Grant in the feel-good film 'Florence Foster Jenkins'.
Emily Blunt aka. Emily Charlton
Keeping her own name for this movie must have been handy for Ms Blunt! Emily of course played the sharp and highly-strung, but ultimately sympathetic second assistant to the Ice Queen herself.
Emily Blunt Now
Up until her the release of this movie, Em has focused her career largely on the stage rather and the small screen. However, her stylish performance in the hit film meant that new audiences got to see her work and her Hollywood career really took off.
The 33-year-old wed the 'Office' actor John Krasinski in 2010. The pair have a daughter together, Hazel and are expecting another child soon.
Stanley Tucci aka. Nigel
Sassy but wise and deeply loveable, the fashion director at 'Runway' helped the clueless Andy Sachs make her transition from dowdy writer to total glamour-puss extraordinaire. Knowing the pitfalls of the industry and having the inside track, he's an invaluable asset and friend to Andy.
Stanley Tucci Now
Alongside Streep, Tucci is a legend of the screen with an awe-inspiring backlog of roles that he's played, dating all the way back from the 80s, including classics such as 'Monkey Shines' and 'Who's That Girl'. Later this year audiences will be able to catch him in 'Patient Zero' and 'Blue Angel' and
The 55-year-old actor has three children with his late first wife Kathryn. He is currently married to Emily Blunt's literary agent sister Felicity Blunt and lives in London.
Simon Baker aka. Christian Thompson
Smarmy to boot, Simon Baker's character Christian Thompson is slimy but well-connected and boy does he know how to turn on the charm!
Unfortunately for poor Andy it's a case of getting burnt before she ultimately learns her lesson and steers clear of this nasty piece of work.
Simon Baker Now:
The 46-year-old Australian actor has been married to actress Rebecca Rigg since 1998 and the couple also share three children together and live in LA.
Although Patrick has appeared in many films since 'The Devil Wears Prada's' release, he's best known for playing Patrick Jane in the popular TV show 'The Mentalist'.
Adrian Grenier aka. Nate
He played Andy's down to earth (and GORGEOUS) put-upon boyfriend, who becomes disillusioned as Andy beings her inexorable climb up the career ladder.
Adrian Grenier Now
One word... Phwoar! The tall, dark and handsome 38-year-old actor is notoriously private, but the sports fan is often spotted in the front row of basket ball games.
You can catch him opposite action hero Bruce Willis in the upcoming thriller 'Marauders'.