9 Times John Travolta Proved That He Is Lord Of The Dance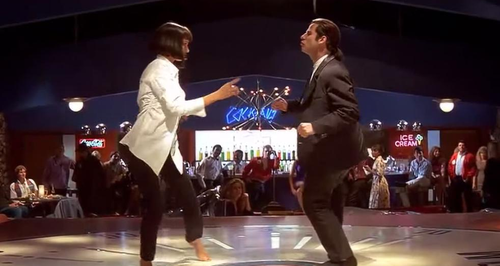 We showed you the best dance scenes EVER in film and you told us you wanted to see more John Travolta. Well, you asked for it and we listened! We've come up with a large serving of his best moves of all time just for you...
From the early days as Danny Zuko in 'Grease' to the twist contest as Vincent Vega in 'Pulp Fiction', John Travolta has proved that he's got the moves - and there's no sign of him slowing down.
Enjoy! (And don't say that we never treat you!)
1. Pulp Fiction (1994)
Even when Mia Wallace (Uma Therman) demands that a reluctant Vincent Vega will dance with her in the 'Twist Contest', he does not disappoint.
2. Saturday Night Fever (1977)
Okay, so this film might have been released almost 40 years ago, but at every wedding, christening or family party there are a significant number of us that still take inspiration from Tony Manero - namely dads.
3. Perfect (1985)
When reporter Adam went along to Jessie's (Jamie Lee Curtis) aerobics class as research for an article on health clubs - aside from being annoyingly cocky - have a sneaky suspicion it wasn't his first time hitting the dance floor... This film had a certificate of 15 and we can see why. This gif alone has got us hot under the collar!
4. Urban Cowboy (1980)
Is there anything this man can't do? Even when he looks almost unrecognisable sporting a bushy beard and a cowboy hat, his quick-steps never falter.
5. Grease (1978)
Danny Zuko was sex-on-legs. Although looking back, what he's doing with his legs here wasn't as sexy as we thought...
6. Hairspray (2007)
Even as a woman, Edna Turnblad, he could gyrate just as well as he can when he's a man!
7. Michael (1996)
Even as an Archangel sent to earth to mend some wounded hearts he still managed to showoff is dancing skills, even if they are somewhat unorthodox...
And then there were the adverts. The old...
8. A 'Tokyo Drink' advert from the 80s
Oh wow.
And the new....
9. A Brazilian rum advert (2013)
Like a bottle of rich Chilean Malbec or a hunk of succulent cheddar, John Travolta's dance moves seem to mature with age.
Keep those hips swinging John Travolta!