Tom Hardy's Very Best Pal Has Passed And We Will All Miss Him
12 June 2017, 12:33
Tom Hardy on Cbeebies
00:20
The canine companion was a regular on the showbiz circuit.
Prepare to blub. One of our favourite film stars has lost his loyal companion. Tom Hardy has had to say goodbye to his gorgeous dog Woody, aged six. The Labrador mix who has been by his side for many TV appearances, even at his side while he read a Cbeebies bedtime story, died last week after a six-month battle with an aggressive muscle condition called Polymyostisis.
Woody had become a cult figure in his right, much like fellow celebrity pooches Gary Fisher (the late Carrie's French Bulldog) and Rocky (Russell Tovey's French Bulldog). Waggy-tailed Woody has accompanied his master to film premieres, chat show appearances and even to the filming of period crime drama Peaky Blinders. Such a good boy.
Tom and co-star Jessica Chastain found the stray – then 11 weeks old - in Georgia where the pair were filming the movie Lawless. He said Woody ran at him in the darkness "all flashes of teeth and snarling" but when Hardy grabbed the mutt they formed an immediate bond. Awww!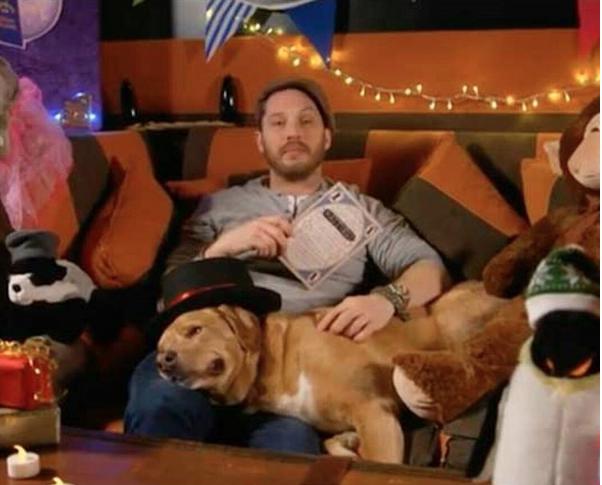 Woody stole the show on CBeebies. Picture: Twitter
Taking to his official website, Tom Hardy Dot Org, the Inception actor, 39, wrote an open letter which shared the story of his bond with his dog. "Above all I am completely gutted," he wrote. "The world for me was a better place with him in it and by my side. To the bestest friend ever. To me and to a family who loved him beyond words and whom he loved without doubt more than I have ever known. Woody was the bestest of journey companions we ever could dream of having. Our souls intertwined forever." Oh Tom, stop, you're making us howl here.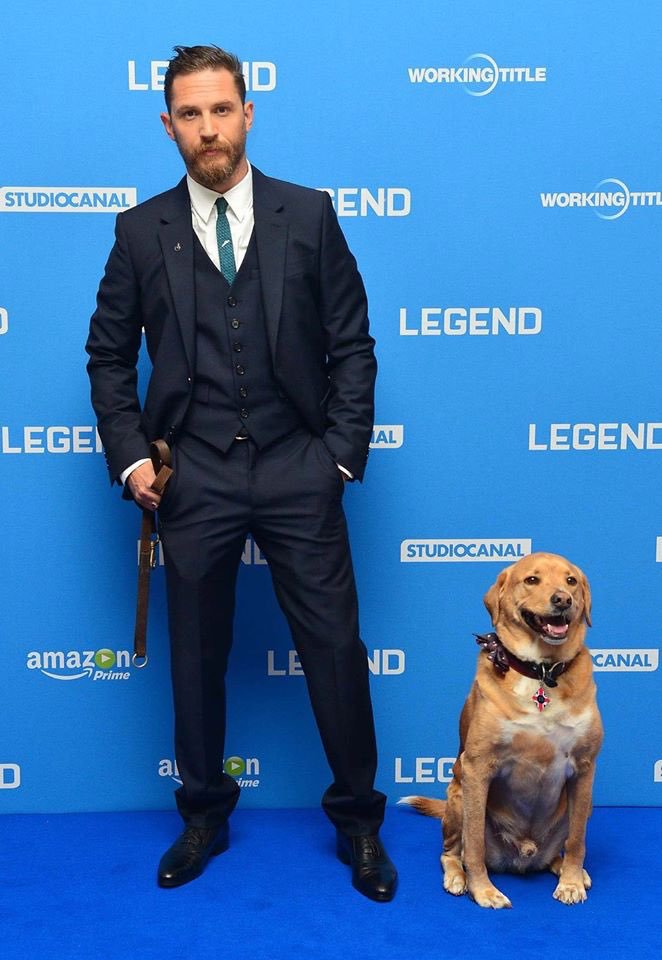 Looking dashing on the blue carpet. Tom's not too bad either. Picture: Twitter
It's clear that the star - who is the subject of an Instagram account called Tom Hardy Holding Dogs - and his wife, actress Charlotte Riley, will greatly miss Woody. The actor concludes his goodbye letter: "Thank you Woody for choosing to find us. We will love you and be with you and you with us forever. Never ever ever forgotten. Your Boy tom xxx I love you beyond words. To the moon and back again and again to infinity and beyond. Run with Max now and the Angels. I will see you when I get there."