Get To Know The Cast Of Fifty Shades In This Teaser
Fifty Shades Darker - Official Trailer 2 (Universal Pictures) HD
02:17
The Fifty Shades Freed movie is finally out and here's all you need to know about the cast.
Fifty shades freed is out, and this time newlyweds Anastasia Steele and Christian Grey's happy ending gets interrupted as their past comes back to haunt them.
Get to know the cast in the clip below:
In the video we see hunky Jamie Dornan who plays Christian Grey talk about what his brooding character will get up to in the new flick.
The new trailer also sees the hunky actor strip off his shirt to reveal his bulging biceps as he reprises his role as the domineering Christian Grey.
The opening credits encourage viewers to "slip into something darker" this coming Valentine's Day, as Grey slips a black mask over his eyes leaving only his stumbled chin and pouty lips visible to the camera.
We are then treated to our first glimpse of Anastasia Steele, played by Dakota Johnson, who is dressed in a pair of sexy stockings and skyscraper stilettos.
Leaning over Ana's shoulder, Christian whispers the words 'intrigued?' before whisking her away to a swanky masquerade ball.
If you remember at the end of the last film, we were all left wondering what became of Ana and Christian's relationship, but it appears the pair are set to reconcile as the billionaire treats her to flowers as he begs for her forgiveness.
Before we know it, the couple are back to their old habits as they share a steamy session in the shower that left us with shivers!
Credit: UNIVERSAL | The initial teaser trailer for the film dropped earlier this week
The first film adaption of E.L James' erotic novel, followed the life of an innocent student who is pursued by her boss, but this time around it looks like Ana is laying down the law as she presents Christian with a number of ultimatums regarding their relationship.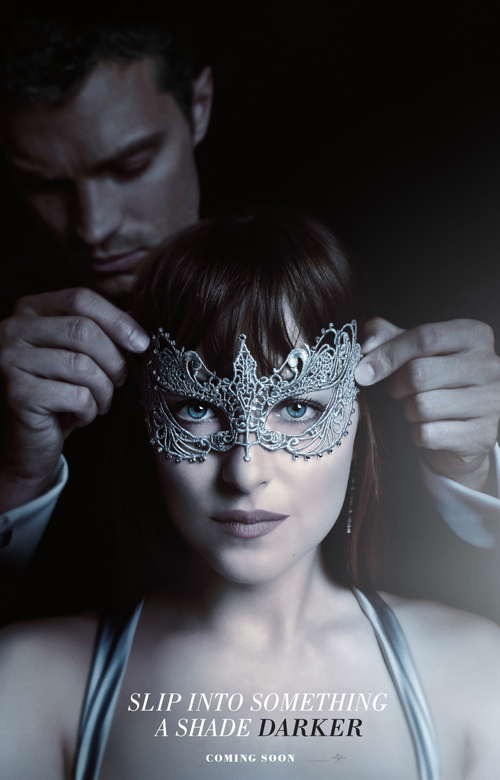 Fifty Shades Darker will be in cinemas on 10th February 2017. Will we see you there?