The New Fantastic Beasts Trailer Is Here But Fans Notice HUGE Plot Hole
14 March 2018, 11:34 | Updated: 14 March 2018, 11:41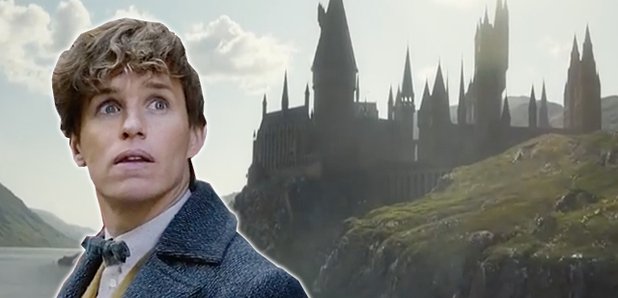 The long awaited trailer for the second Fantastic Beasts movie - The Crimes Of Grindelwald has dropped, but fans have been quick to spot something odd in the first opening seconds...
The two minute trailer starts with three wizards apparating into Hogwarts.
Alarm bells anyone?
If you have a little voice in your head that sounds distinctly like Hermione Granger then yep, you've discovered the problem. In the Harry Potter movies, she clearly reminds a confused Harry and Ron that: "You can't Apparate inside the Hogwarts grounds, how often do I have to tell you?"
(It's all there in Hogwarts; A History, after all.)
Other potterheads were quick to notice the magical discrepancy:
Also WHAT THE ACTUAL HECK YOU CANNOT APPARATE ONTO HOGWARTS GROUNDS YOU EVIL LITTLE COCKROACHES #FantasticBeasts

— emotional wreck™️ (@ddlywckmorm) March 13, 2018
YouCan'tApparateWithinTheGroundsOfHogwarts

— Mallory Hayes (@MalloryAHayes) March 13, 2018
However, some are arguing that actually, it may not be a blunder. After all, Dumbeldore was able to apparate into Hogwarts... remember when he casually explained to Harry that "being me has its privileges."?
If Dumbledore had this power, then surely the Minister For Magic would too?
Other fans are also speculating that perhaps the reason for an Anti-Apparition Charm may be uncovered in the upcoming movie, so in fact, there's no such rule in place at the time this happened?
Okay Potter fans I know some of you are Mad Online™ but what if events in this movie ARE the reason you can't Apparate onto the Hogwarts grounds HMMM

— Proma (@promawhatup) March 13, 2018
Although, J.K has always stated this one important fact:
.@jk_rowling said in @pottermore that "the castle and grounds have always been protected with Anti-Apparition Charms" pic.twitter.com/bkP4ObEkLu

— The Rowling Library (@rowlinglibrary) March 13, 2018
The Crimes Of Grindelwald sees Eddie Redmayne return as Newt Scamander, alongside newly appointed Jude Law who plays a young Albus Dumbledore. The two will be taking on powerful dark wizard Gellert Grindelwald (Johnny Depp).
The second in the projected five-film series will be released in cinemas across the UK on 16th November 2018.