VOTE: The Worst Movie Accents Of All Time!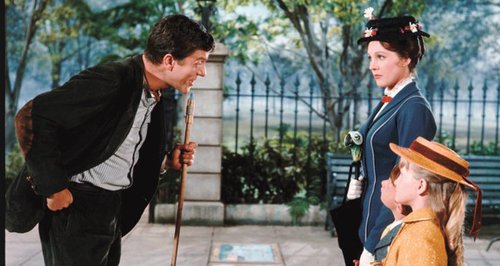 These truly awful efforts have us calling out for someone to sack the vocal coach! From dodgy attempts at Greek to dreadful Irish Brogues… which actor do you think has the least convincing film accent of all? Vote for your winner below!
1. Dick Van Dyke - 'Mary Poppins'
Dick Van Dyke's attempt to speak in a Cockney lilt is generally acknowledged as on elf the worst accents in film history. If we're honest we love the comedy value 'Burt' the chimney sweep's voice brings to the movie, but accent aficionados haven't' been so impressed.
2. Keanu Reeves - Bram Stoker's 'Dracula'
Poor Keanu's efforts to convince us he's British in 'Dracula' couldn't have been any less convincing. Terrifying… we think not unfortunately.
3. Anne Hathaway - 'One Day'
The best way to describe the 32-year-old actresses attempt at a Yorkshire accent is quite frankly barely passable. Fans questioned the up and down nature of Hathaway's dodgy accent efforts who told the 'Telegraph' in an interview that she watched the soap 'Emmerdale' in vocal preparation for the role.
4. Gerard Butler - 'P.S. I Love You'
The 45-year-old actor's disastrous attempt an a Irish brogue in the 2007 romantic film is so bad that he actually ended up apologising to the Irish nation in an interview with the website 'Movies.ie' for "abusing" their accent!
5. Michael Caine - 'On Deadly Ground'
The 82-year-old is widely celebrated as a fantastic actor and a talented vocal impersonator. However, everyone's has the occasional slip, and for Mr Caine, that was as Michael Jennings in 'On Deadly Ground'. In case you were wondering… he was going for Texan.
Warning, this clip contains mild swearing.
6. Russell Crowe - 'Robin Hood'
He may be playing defender of the people, but the 51-year-old actor is responsible for the worst attempt at a Nottingham accent we've ever heard! What is more, the New Zealand born actor didn't take his failure lightly, famously storming out of an interview with the 'BBC' when questioned about his appalling efforts.
7. Johnny Depp - 'Chocolat'
The Irish lilt has persistently challenged actors over the course of cinematic history. We're sorry to call him out on it, but the 51-year-old actor's efforts in 'Chocolat' are woefully lame… Juliette Binoche's character Vianne Rocher may have been won over, but we're afraid we were not.
8. Angelina Jolie - 'Alexander'
The 39-year-old actress plays Olympias, the Greek wife of Alexander the Great… but her accent is… Greek? Russian? We're not quite sure to be honest…
9. Brad Pitt - 'Seven Years in Tibet'
Brad Pitt maybe an amazing actor, who's starred in some fantastic movies, but we're afraid that accents aren't his strongest suit. In 'Seven Years in Tibet' the 51-year-old actor plays an Austrian mountaineer… the result however, is dubious.
10. Cameron Diaz - 'Gangs of New York'
The 42-year-old is undeniably gorgeous on screen as Jenny Everdeane in the the 2002 historical crime drama… her accent however, leaves something to be desired!