Fans Call "Oprah Winfrey For President" After THIS Emotional Golden Globes Speech
8 January 2018, 08:00 | Updated: 8 January 2018, 08:17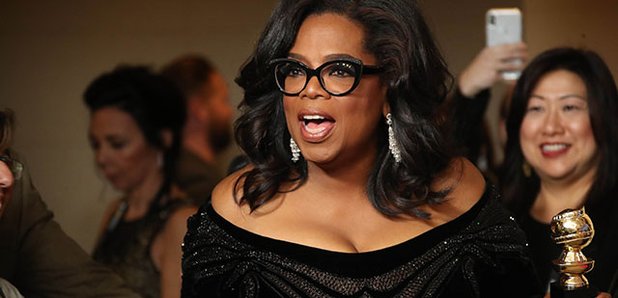 The star brought the awards ceremony to tears with her powerful words.
It was Oprah Winfrey who stole the show at last night's Golden Globes award ceremony, leading a speech to empower all women.
Wearing black, along with countless stars including Angelina Jolie, in solidarity with victims of sexual assault and harassment, Oprah encouraged men and women to work together so that no one ever has to say the words, 'Me Too' again.
As she accepted the Cecil B. DeMille Award, she began by saying: "It is not lost on me that, at this moment, there is some little girl watching as I become the first black woman to be given the same award."
She went on to say: "I want all the girls watching here to know that a new day is on the horizon. When that new day finally dawns, it will be because of a lot of magnificent women, many of whom are right here in this room tonight, and some pretty phenomenal men, fighting hard to make sure that they become the leaders who take us to the time when nobody ever has to say 'Me too' again."
Oprah's speech comes following a number of women in Hollywood who have shared personal stories of abuse, particularly over last year.
She explained: "It's not just a story affecting the entertainment industry. It's one that transcends any culture, geography, race, religion, politics, or workplace.
"So I want tonight to express gratitude to all the women who have endured years of abuse and assault because they, like my mother, had children to feed and bills to pay and dreams to pursue.
"They're the women whose names we'll never know. They are domestic workers and farm workers. They are working in factories and they work in restaurants and they're in academia, engineering, medicine, and science. They're part of the world of tech and politics and business. They're our athletes in the Olympics and they're our soldiers in the military."
Fans and celebrities went into meltdown over the speech with a number of them demanding that Oprah should run for president…
My husband voted for George HW Bush (once) and George W Bush (twice) and just said, "I'd vote for #Oprah for President." #goldenglobes

— Shannon Watts (@shannonrwatts) January 8, 2018
I haven't heard someone sound that presidential since January 19th, 2017.#GoldenGlobes #TimesUP #Oprah

— Charlotte Clymer‍ (@cmclymer) January 8, 2018
Our country would be better if we had a President who could speak as eloquently and passionately as #Oprah just did.#GoldenGlobes

— Nick Jack Pappas (@Pappiness) January 8, 2018
Just when you think @Oprah couldn't be more #Oprah and she then goes on and out #Oprah's #Oprah and leaves us all in tears.

— Amanda Wilson (@nanders_86) January 8, 2018
If you have ANYTHING bad to say about her speech, you need to take a hard look at yourself. You're in the minority of Americans, and despite your misguided hopes of "Making America Great Again", you will be defeated.#Oprah

— tmhollywood (@tmhollywood) January 8, 2018
Let me tell you this room is still vibrating like electricity from that speech. #OPRAH #micdrop #TimesUp #MeToo #GoldenGlobes

— Ava DuVernay (@ava) January 8, 2018
We couldn't agree more. What an inspiration.
Watch more: