Paul Hollywood And Prue Leith Slam GBB Bakers For Making Terrible Biscuits
6 September 2017, 08:28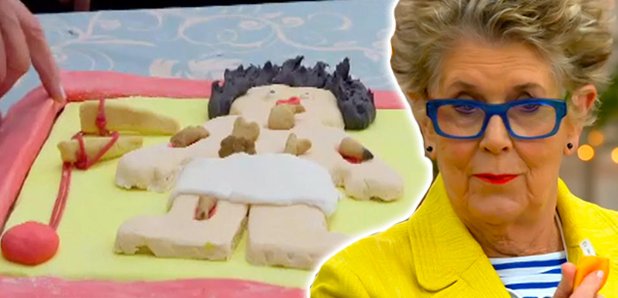 Great British Bake Off judges Paul Hollywood and Prue Leith are old hacks on the baking scene.
They've probably baked most things and seen the horrors of what can go wrong in the kitchen, so if they agree that something isn't good...then we can probably trust their opinion!
So the poor bakers during last night's instalment of the Bake Off were probably mortified by the two judges verdicts on Biscuit Week.
In a series of baking challenges the bakers were asked to create different types of biscuits for the judges ranging from fortune cookies to a showstopper challenge which required hopefuls to make a biscuit board game.
The fortune cookie challenge was the technical baking task where bakers are asked to follow a recipe with the bare minimum instructions and it usually doesn't end up going well for everyone.
But in this round, it wasn't the biscuits that had the judges eyes rolling but the hilarious and wacky fortunes some of the bakers had concocted to go inside such as "today you will poo candy floss" and "you will get bored of writing fortunes".
But when it came to critique their baking skills during the show stopper challenge which the budding bakers have practiced in advance the judges were less impressed with the results.
Prue branded Kate's attempt at a jungle themed board game a "jungle swamp" and harshly continued "I don't think eating that is going to be a huge pleasure" - ouch!
But it was Chris who had to say bye to the Great British Bake Off tent as the second contestant to be eliminated from the series.