Peter Andre's Son Junior Blows Everyone Away With This Amazing Duet!
11 December 2017, 17:02 | Updated: 11 December 2017, 17:23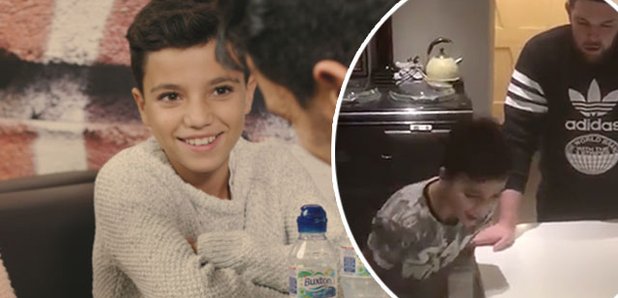 Music runs in the family...
Following firmly in his folks' footsteps, Peter Andre and Katie Price's son, Junior seems set for a career in music after a new video surfaced online.
Katie proudly posted a video of her 12 year-old-son duetting with former X factor star, Craig Colton last night on her Facebook.
Performing 'Let You Down' by NF, as 2011 X factor contestant, Craig sings the choruses whilst Junior can be seen rapping the verses - and fans couldn't get enough of the powerful moment.
One commented saying: "Wow your boy's got talent" and another added: "What a powerful rapper for his age."
This isn't the first time we've heard about Junior's musical talents however.
In October Peter revealed that Junior and himself were to release a charity single together. He explained in his New! magazine column: "So my little man Junior is really getting into his singing,"
"He's got a great voice on him and I've noticed a big improvement recently."
He added: "I've recorded him in my studio at home and will record something with him for charity when the time is right."
Meanwhile, Katie's come back single 'I've Got You' was written by Craig Colton, who appears in the video with her son.
Katie debuted the song earlier this year on Loose Women, explaining that she struggled to get her manager on side for the re-launch of her singing career.
She explained: "Nobody's interested whatsoever, no one's backing me,
"My manager was all, 'I'm not interested, I don't believe in it, I don't know why you're wasting your time.'"
"I've always wanted to be a pop star or a model, and I'm doing it because I can do it."
She also tried her luck back in 2005, auditioning for The Eurovision Song Contest. But now she's passing on the baton to her son and he's on the right track to being brill!
Watch more: