Piers Morgan 'CONFIRMS' Susanna Reid Is 'Pregnant' With Twins
11 January 2017, 11:48 | Updated: 14 July 2017, 11:11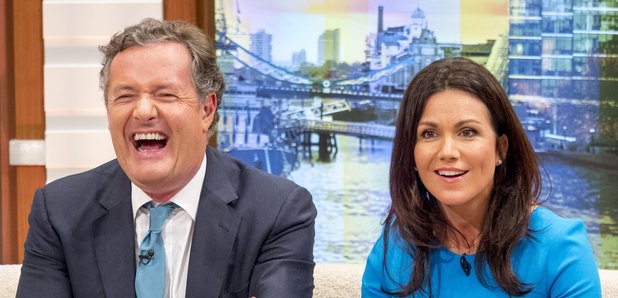 The Good Morning Britain presenter played the ultimate prank on his TV wife by falsely tweeting that she was in fact pregnant with twins. It's all lies!
It all started when the two hosts of Good Morning Britain were talking about those Amal Clooney pregnancy rumours.
Whilst Susanna Reid and Piers Morgan addressed those side-on photos of George Clooney's wife, Amal, apparently 'revealing' a baby bump, Susanna took the opportunity to slam the media's obsessions with women's waistlines.
BREAKING: @SusannaReid100 is pregnant with twins, they're both going to be called Piers and you shouldn't believe everything on the internet pic.twitter.com/3uwsVFxVQv

— Good Morning Britain (@GMB) 11 January 2017
Getting up off the sofa, Susanna, 46, turned side on to argue that any woman in a photograph taken from the side makes her look like she's sporting a "little bump".
She said: "Look, seriously, if any woman stands sideways to camera you could speculate that she's pregnant."
As she demonstrated, Piers, 51, unceremoniously and patronisingly patted her stomach and said: "Twins?"
Although that should have been the end of the joke, Piers took things one step further by 'confirming' the news via his personal Twitter account.
Confirmed. https://t.co/tRrbNSbswh

— Piers Morgan (@piersmorgan) 11 January 2017
I cannot confirm or deny that I am the father of @susannareid100's twins.

— Piers Morgan (@piersmorgan) 11 January 2017
Despite his joke undermining the point she was making, Susanna laughed off Piers' attempt at humour.
Later on in the show, the father-of-four was forced to address the rumours.
He said: "Just some breaking news, The Sun on its website, Piers Morgan reveals that Susanna Reid is pregnant by twins."
To which Susanna added: "Piers has just tweeted 'Confirmed'!"
"Well it's confirmed that I did say you might be pregnant with twins, that is true, it was obviously a joke," Piers cheekily replied.
"Jokes don't do very well on social media, do they?"
Only when the joke is funny Piers...