Piers Morgan Dances To 50 Cent For His New 'Workout DVD' And It's HILARIOUS
13 December 2017, 14:58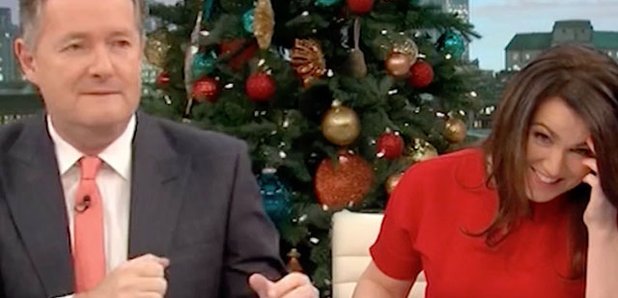 Piers Morgan shows off his moves on live TV.
We've all seen Piers do a lot of cringe-worthy things over time, but never in a million years did we think we'd witness him getting down to 50 Cent's 'In Da Club' on live TV.
Well today Good Morning Britain viewers were in for quite a shock, when Piers announced his joke workout DVD called 'Pump It With Piers'.
After shedding 8lbs the host explained that his DVD was 100 per cent kale-free along with wine and cheese "cheat days".
If the DVD cover image of Piers on an exercise bike in a suit, and headband wasn't enough, his announcement that his tune of choice was 50 Cent's 'In Da Club' was even better.
Talking about his workout sessions he explained: "You've got to do it to 50 cent!" before then bursting into dance to the hit single - whilst the other presenters cringed.
Not everyone was put off however, as Susanna Reid said shortly after: "I need to lose 8lbs by Christmas, so maybe I will try it" to which he replied: "I'm your man."
This all comes a day after Piers was defeated by his frenemy Alan Sugar in their weight loss battle.
The pair challenged each other to a weight loss contest back in October, and the person who lost the least weight would have to donate £5,000 to Great Ormond Street Hospital.
The weigh-in revealed that Lord Sugar thrashed Piers by losing a whopping 19lbs whilst Piers lost just 8lbs.
After being taunted by Lord Sugar with 'loser' being chanted at him, Piers begrudgingly said: "Well played Lord Sugar, you win, I lose… I'm staggered, I've lost any weight. I've lost 8lbs. I'm quite happy about that. It'll probably get me a dvd deal to lose weight."
He then admitted: "I'm going to go straight and have the biggest fry up you've ever seen."
Meanwhile, despite winning Sir Alan decided to donate his £5,000 to Great Ormond Street as well!
Nice one guys.
Watch more: