Piers Morgan's Reaction After Being Slammed On Corrie Is PRICELESS
15 January 2018, 08:55 | Updated: 15 January 2018, 10:57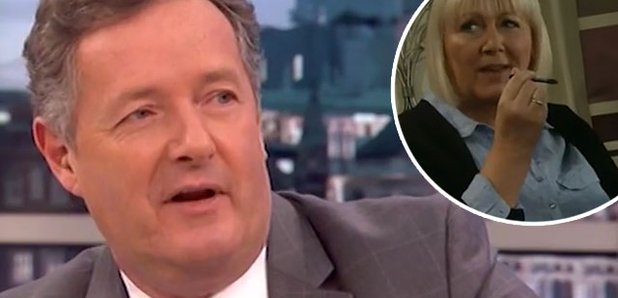 Piers Morgan is outraged by the comment Eileen made about him during an episode of Coronation Street.
It goes without saying that Piers Morgan tends to rub people up the wrong way from time to time.
But who knew that his controversial attributes would be of annoyance to the Coronation Street cast too.
On Wednesday night's Corrie, as Pat Phelan returned to Eileen Grimshaw's house with a bag full of charred clothes, Eileen wound up complaining as he slammed the door, saying: "I get enough of a headache from Piers Morgan, never mind him."
Well, Piers has since caught wind of this comment and addressed it on today's Good Morning Britain saying:
"Now, I couldn't understand where this impromptu, unprovoked attack had come from by a major Coronation Street star." And then went on to blaming Richard Arnold, adding: "A little part of my brain took me to, oh yes, that's right, Sue Cleaver the actress that plays her, she's your best friend! Isn't she?"
Bursting into a fit of giggles, Richard responded: "Yes, she is one of my best friends,
"If only I had that clout! I have as much clout on the Coronation Street writers as I do on this show!"
He then joked about his jealousy of Piers' mention, adding: "I'm furious. 23 years I've been carrying that woman and not so much as a mention on the Cobbles – one of my favourite shows of all time, and you get the mention!"
But Piers, still bitter, explained that his grandmother wouldn't have approved of the soaps comment about him, saying: "My grandmother loved Coronation Street, and would have absolutely loved me being mentioned – but then when she heard the mention, she would have come after you!"
Unlucky, Piers.
Watch more: