Prince William to join DIY SOS for special Grenfell episodes
31 August 2018, 08:18 | Updated: 19 October 2018, 10:44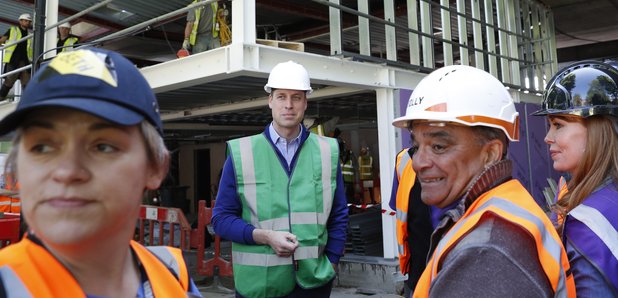 In a teaser clip the Prince can be seen consoling a 14-year-old boy who was affected by the tragedy.
Prince William has taken part in a special two-part Grenfell episode of DIY SOS due to air next Wednesday.
The Duke of Cambridge joined Nick Knowles and his team as they constructed a brand new boxing club in the London Borough of Kensington and Chelsea to replace one that was destroyed by the Grenfell fire.
The 36-year-old royal got stuck in painting, decorating and chatting to volunteers as well as victims who were affected by the blaze which tore through Grenfell Tower in June 2017.
He spoke to 14-year-old who had lost his friend in the blaze.
Picture: Getty
He comforted him with some kind words saying:
I'm sorry to hear that. Have you found it quite difficult afterwards?' the royal asked the 14-year-old boy named Jodie.
'Yeah I didn't know how to cope with it. Boxing is the main aspect that takes my mind off it, I really enjoy it,' the keen amateur replied.
William said: 'It's a horrible process to have to go through. You have got the right people around you and I hope you talk about it.
Picture: Getty
'You've got to talk about how much you miss your friends, that's perfectly normal and keep boxing as well. I can see that twinkle in your eyes, you're going to be good.'
The 36-year-old royal has no stranger to DIY SOS having visited the programme while they were in Manchester back in 2015