Angry BGT viewers blast 'inappropriate' Magic Mike strippers on 'family show'
4 June 2018, 07:59 | Updated: 4 June 2018, 08:02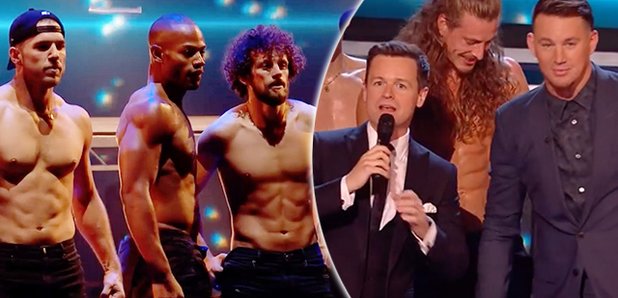 The final of Britain's Got Talent saw Lost Voice Guy Lee Ridley crowned as the 2018 winner, but not before a stage invasion from the Magic Mike stage show dancers.
In a huge end-of-season finale, this year's Britain's Got Talent kick started with a bang as Dec flaunted his singing and dancing skills in a dramatic start to the programme.
Viewers were also treated to a surprise Magic Mike performance, in which the actual Channing Tatum made a cameo appearance. The cheeky preview was to promote the stage version of the much-loved movie, although not everyone was happy about it.
Many viewers slammed BGT for airing 'male strippers' during a 'family' TV show, branding it unsuitable viewing for youngsters.
Others also thought that the gyrating performance was uncalled for when the likes of 10 year old BGT finalist Calum Courtney was sharing the same stage.
Must be nice for parents who let their kids watch the final, to have them entertained by a bunch of strippers.
Classy
#bgt

— Askaway (@marti6118) June 3, 2018
Magic Mike is not appropriate for family viewing on BGT final #BGTFinal @ITV #discretion

— LaurenceEvans (@laurenceevans) June 3, 2018
#BGT is a family show, right? So what made the producers think a scene from Magic Mike Live was appropriate. Incredibly uncomfortable watching it with my children as they stripped and gyrated. My son was quite upset. Disappointed #BGTfinal

— Miriam Craske (@NorfolkDragon) June 3, 2018
Away #BGT ...Magic Mike?!? Seriously? It's Sunday night TV not a dirty hen do. pic.twitter.com/UmI8vRmCWE

— Thomas Haile (@THaile91) June 3, 2018
However, a representative for ITV stood by the show's decision, telling The Mirror: "There is nothing in the show that is unsuitable for younger viewers and all content is in accordance with compliance guidelines."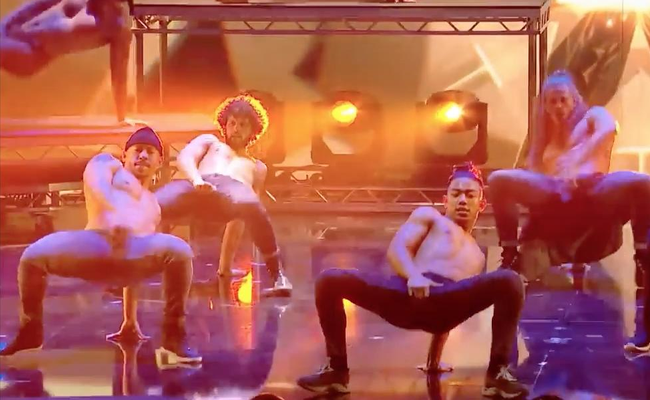 Credit: ITV - the Magic Mike dancers put on a saucy show
And it seemed that there were many viewers who were more than happy to enjoy the performance:
I need to see Magic Mike at the Hippodrome because I appreciate good choreography. Yes choreography. #MagicMike #BGT #BGTfinal #BGTfinal2018

— Rococoa (@Eudaimoniam) June 3, 2018
I definitely screamed a bit too loud at the TV lol. Loved the whole Magic Mike live performance, I'll be buying tickets to see it. #BGT #BGTFinal #BritainsGotTalent xx

— Siobhan #Timeless (@slinehan1) June 3, 2018
Lost Voice Guy Lee Ridley scooped the £250,000 prize, alongside the one-in-a-lifetime chance to perform for The Queen at The Royal Variety Performance later this year. Lee fought off the likes of comedian Robert White and reggae star Donchez Dacres to take the top spot for 2018.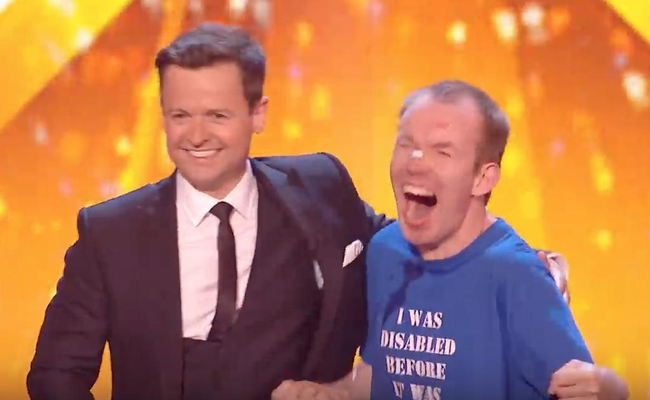 Credit: ITV - Lost Voice Guy won BGT 2018
The Royal Variety Show will take place on Monday 19th November at the London Palladium, before being aired on TV in December.