Binky Felstead And JP Reveal Their New Baby's Beautiful Name!
26 June 2017, 08:18 | Updated: 14 July 2017, 11:11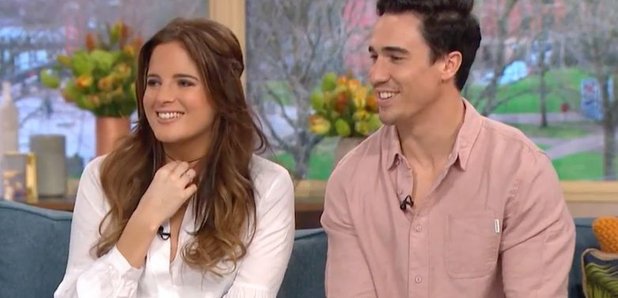 The pair recently welcomed a little girl into the world and have finally shared her name with the world.
Binky Felstead and Josh 'JP' Patterson have finally revealed their daughter's name.
It feels like forever since the Made In Chelsea stars welcomed their new bundle of joy into the world and now the wait is over to find out what the little one has been called.
They welcomed the tot earlier this month and have decided to call her India Elizabeth Felstead-Patterson.
Speaking to HELLO! magazine, Josh said: "I burst into tears when she was born… When you've seen your partner give birth you end up feeling emotions for them that you've never felt before. I can't describe how much admiration I have for her for what she's been through… it's a new feeling in my heart."
He also revealed that India - who weighed 7lb 13oz when she was born just before 2pm on June 12 in the Lindo Wing of St Mary's Hospital in Paddington- has brought the pair closer together.
Josh said: "Having India has cemented us - even more than we were before. We're a family now."
Binky added: "It was a dream labour. There was no screaming or crying and it wasn't like in a movie. It was all over very quickly. She just loves cuddles, and everyone's saying she looks like Josh but she has both our dark hair."
Meanwhile, Binky's co-star Ryan Libbey recently claimed his pal had a change of heart about the name India after another celebrity opted for something similar.
Ryan told BANG Showbiz: "They did have a name in mind for the baby but then they realised that someone else in the public eye just had a baby called the same name. It was someone from 'The Only Way is Essex' or something like that, I can't remember but the baby was called India ..."
Well we are certainly glad they opted for it after all, it's such a pretty name!
JP and Binky have had an on and off relationship in the past but rekindled their romance during the pregnancy and recently moved in together in her West London home.
Josh previously said: "When this first started out, we weren't together. We came to the conclusion that we weren't going to just automatically get back together just for the child. It had to be right for us. But it happens organically when you are suddenly spending more time together. And so now I'd say that, yes, we are back together".
"We are beyond the boyfriend and girlfriend thing. A lot of people automatically thought that the baby could be a bad thing for our relationship, and that if we got together again it was just for the baby. But we have always loved each other. The love was never gone."
They've come such a long way since the early days and we can't wait to see what lies ahead for the pair and their tiny one in their new show Binky and JP's Baby: Born In Chelsea.