Sassy 12-Year-Old Snubs Simon Cowell's BGT Offer With Hilarious Letter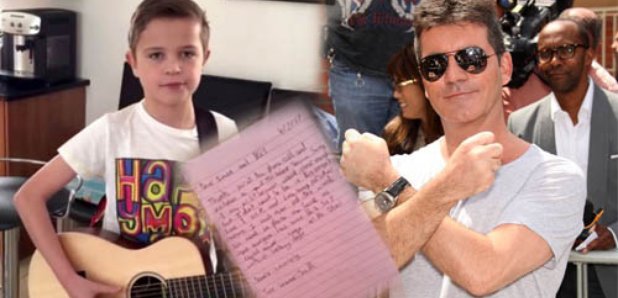 The music mogul probably wasn't expecting to be rejected by this bright teen who wasn't jumping at the chance for an audition.
Simon Cowell may have thousands of people clambering for a place at the Britain's Got Talent auditions, but it seems the music mogul's star power wasn't enough to impress a sassy 12-year-old boy who rejected his offer.
Tom 'Mouse' Smith took to Twitter to share a picture of a handwritten note addressed to the SyCo label boss and the BGT producers in which he kindly declined their offer of an audition.
The young teen is very firm, insisting that he "doesn't want to be in this competition" before saying to Simon, "there's no need to phone me back".
Ouch!
Didn't know where to send this but if someone could get it to @SimonCowell and @BGT that would be cool. Thanks Tom x pic.twitter.com/J4hZVfYIAp

— Tom Mouse Smith (@TomMouseSmith) February 4, 2017
The picture was shared with the caption: "Didn't know where to send this,' Tom explained, 'but if someone could get it to Simon Cowell and BGT that would be cool."
The blunt letter read: "Dear Simon [Cowell] and BGT, thanks for all the phone calls and invitation to your TV talent show. Sorry if my first answer wasn't clear enough but I don't want to be in this competition.
"I write and sing songs for other reasons I can't even put into words. No need to phone me back as now everyone has seen this so I could never come on the show without looking daft.
"Yours sincerely, Tom 'Mouse' Smith".
Well, consider him told! We bet that shut Simon up for a bit!
As we know, Simon doesn't take no for an answer, and Tom revealed that producers were willing to get his record label in touch.
Tom and his dad Andy later told the Independent: "I was really pleased to be asked but it's just not for me. They have rung two times since then and even suggested someone from the record label would call us as well."
Asked about his reasonings for turning down an offer that most kids would die for, Tom said: "I'm just at school – my music is just for me – I'm not bothered about someone judging it or giving me marks out of ten," he added.
"I just wanted everyone to know that it wasn't for me."
Good on ya Tom!